Texas Public Safety Dept. Sues State Attorney General to Halt Release of Hotel Invoices for Troopers Sent to Mexican Border
Saturday, September 19, 2015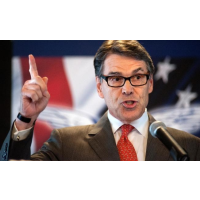 Former Texas Gov. Rick Perry (photo: Sid Hastings, AP)
Former Republican Texas Gov. Rick Perry, as he prepared in 2014 to make another run for the White House, wanted to appear tough on undocumented immigrants coming into his state from Mexico. So he sent state troopers down to the border in a "surge" to assist the Border Patrol. The Texas Department of Public Safety (DPS) even deigned to refer to the Border Patrol as "an equal partner" in the effort, according to the Austin American-Statesman. But the Border Patrol made it clear they were not working with the Texas authorities and released data indicating that many of the drug seizures claimed by DPS were actually made by federal authorities.
"We sent our Texas Ranger recon teams, we sent our Parks and Wildlife wardens. I deployed the National Guard," claimed Perry during last month's first Republican presidential debate. "…I stood on the ramp in Dallas, Texas, and looked the president of the United States in the eye and said 'Mr. President, if you won't secure the border, Texas will.' And that's exactly what we did."
A Texas newspaper investigation has shown that Perry's claim is inaccurate.
The American-Statesman and the Fort Worth Star-Telegram requested that DPS release the number of seizures and arrests made only by its personnel and the department declined. It also refused to release the hotel bills run up by state troopers during "Operation Strong Safety," Perry's effort to look tough on immigration.
DPS is now suing the state's Attorney General to keep it from releasing those bills, according to Courthouse News Service. Releasing the information would endanger state troopers' "physical safety" or create a "substantial threat of physical harm," DPS claims. The agency also insists that the hotel bills are confidential because they relate to "preventing, detecting, responding to, or investigating an act of terrorism or related criminal activity."
The Texas Attorney General is representing DPS in its suit against the Texas Attorney General, oddly enough.
In March this year, DPS requested an additional $123 million to help "secure the border." Democratic state Rep. Cesar Blanco responded by accusing DPS of failing to provide its arrest data and claiming credit for the federal government's work. "The state has nothing to show for its money," Blanco told the El Paso Times.
An investigation of border apprehension statistics by The Arizona Republic belied Perry's debate claim that he "secured the border." Reported the newspaper: "Perry's actions had little to no observable effect on the number of immigrants crossing the Texas border, based on available data." Perry dropped out of the presidential race earlier this month.
-Steve Straehley, Danny Biederman
To Learn More:
Texas Tizzy Over Border Data & Spending (by Robert Kahn, Courthouse News Service)
Fact Check: Rick Perry's Claim of Securing Texas Border Unsupported (by Travis Arbon, Arizona Republic)