High Levels of Radioactivity Found in Coal Ash at Major U.S. Coal Basins
Friday, September 04, 2015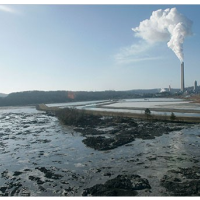 Coal ash spill in Kingston, Tenn. (photo: Wade Payne, AP)
Coal ash, the toxic waste produced by coal-fired power plants, has long been known to contain dangerous heavy metals, making it an environmental nightmare. Now it has been found to contain increased levels of radioactivity as well.
A new study from Duke University says radioactive contaminants can be found in coal ash from all three major U.S. coal-producing basins. The radioactivity in the ash was determined to be five times higher than in normal soil and up to 10 times higher than in coal itself because of the way combustion in power plants concentrates radioactivity.
Avner Vengosh, professor of geochemistry and water quality at Duke's Nicholas School of the Environment, told Phys.org: "Until now, metals and contaminants such as selenium and arsenic have been the major known contaminants of concern in coal ash."
But the study "raises the possibility we should also be looking for radioactive elements, such as radium isotopes and lead-210, and including them in our monitoring efforts."
Phys.org explains that radium isotopes and lead-210 occur naturally in coal as chemical by-products of its uranium and thorium content.
But the Duke research revealed that when coal is burned, "the radium isotopes become concentrated in the coal ash residues, and the lead-210 becomes chemically volatile and reattaches itself to tiny particles of fly ash. This causes additional enrichment of radioactivity in the fly ash," according to Phys.org.
Until now, coal ash ponds had not been evaluated for radioactivity. "We don't know how much of these contaminants are released to the environment, and how they might affect human health in areas where coal ash ponds and landfills are leaking. Our study opens the door for future evaluation of this potential risk," according to Vengosh.
Those breathing the air near coal ash dumps may face risks from radioactivity, according to Nancy Lauer, the lead author of the study.
-Noel Brinkerhoff, Steve Straehley
To Learn More:
Radioactive Contaminants Found in Coal Ash (Phys.org)
Analysis Shows Exposure to Ash from TVA Spill Could have 'Severe Health Implications' (Duke Today)
Naturally Occurring Radioactive Materials in Coals and Coal Combustion Residuals in the United States (by Nancy E. Lauer, James C. Hower, Heileen Hsu-Kim, Ross K. Taggart and Avner Vengosh, Environmental Science & Technology)
House of Representatives Votes to Limit Restrictions on Dumping Coal Ash Waste into Water Supply (by Noel Brinkerhoff and Steve Straehley)
EPA Declines to Classify Coal Ash as Hazardous Waste (by Steve Straehley, AllGov)