Majority of Americans Want Background Checks for all Gun Sales and a Ban on Assault-Style Weapons
Wednesday, September 02, 2015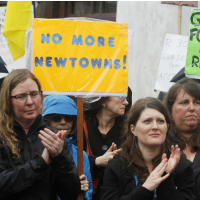 Associated Press
Americans want tougher gun control laws when it concerns background checks, banning assault weapons and other measures intended to reduce the threat of gun violence, according to a new survey.
The Pew Research Center surveyed people in July, after the Charleston church shooting but before the Lafayette, La., movie theater shooting, on gun control efforts and came away with these numbers:
--85% favor background checks for all gun sales, whether in stores, gun shows or private sales.
--79% want laws that will keep mentally ill people from buying guns.
--70% support a federal database for tracking gun sales.
--57% want to ban assault-style firearms.
Background checks and the prohibition on the mentally ill buying guns are widely supported by those from both major political parties. Background checks are favored by 88% of Democrats and 79% of Republicans, while keeping guns from the mentally ill is supported by 81% of Democrats and 79% of Republicans.
The bipartisanship was not as strong for the other two questions. Fifty-five percent of Republicans favor a federal database for gun sales, which enjoys 85% of Democratic backing. Only 48% of Republicans support a ban on assault weapons, while 70% of Democrats do.
Gun-safety advocates shouldn't get too excited about the numbers, however. They're about the same as they were after the Sandy Hook shooting in 2012 and no significant gun-safety legislation has been passed since.
-Noel Brinkerhoff
To Learn More:
How Americans Actually Feel about Stronger Gun Laws (by Mark Berman, Washington Post)
Gun Industry Doesn't Need a Majority to Stop Background Checks and "Straw" Purchases (by Noel Brinkerhoff, AllGov)
Large Numbers of Americans Think Existing Guns Laws are Stronger than They Really Are (by Noel Brinkerhoff, AllGov)