Global Warming Nurtures Infectious Disease Outbreaks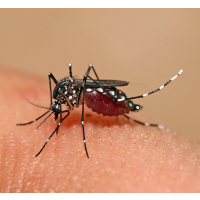 Yellow fever mosquito also spreads dengue fever (photo: Muhammad Mahdi Karim, Wikipedia)
Add another unforeseen problem to the list of consequences of global warming—the spread of diseases.
The bacteria that cause cholera, rarely seen in the United States, love warm weather. Usually winter weather halts the spread of the disease, but with longer, warmer summers and poor sanitation brought on by extreme weather events, it's possible thousands more every year will contract cholera, according to Marlene Cimons of ClimateProgress.
"I would put cholera highest on my list to worry about with respect to climate change," Dr. David M. Morens, senior advisor to the director of National Institute of Allergy and Infectious Diseases (NIAID), told Cimons. "Cholera likes warm weather, so the warmer the Earth gets and the warmer the water gets, the more it's going to like it. Climate change will likely make cholera much worse."
Salmonella is another disease that will benefit from climate change. Extreme weather, particularly along coastlines, can lead to contaminated water and to salmonella poisoning. A study, published in Environment International, showed a 4.1% increase in the incidence of salmonella with an uptick in extreme temperature events, and 5.6% increase connected with extreme precipitation. In both cases, coastal areas had a higher risk of increased salmonella poisoning.
"Salmonella is food- and water-borne, and warmth helps it replicate," Amir Sapkota, study author and associate professor at the Maryland Institute for Applied Environmental Health at the University of Maryland, told ClimateProgress. "Salmonella reproduces more in higher temperatures. Heat facilitates its growth. That's why we see a lot more salmonella cases in the summer. Extreme temperature and extreme precipitation increases salmonella, and climate change is causing them to become more intense and frequent. Under those conditions, we can expect cases of salmonella to go up."
Other diseases rarely thought of as affecting the United States may also emerge. Mosquitoes capable of carrying dengue fever are now present in 28 states, according to the Natural Resources Defense Council. West Nile virus killed a record 31 people in California last year.
The effects of extreme weather will also make it difficult to respond to outbreaks of disease. "We have the answers of how to prevent and treat most infectious diseases" Dr. Robert Hall, a program officer in the division of microbiology and infectious diseases at NIAID, told ClimateProgress. "But in a storm situation, when you have flooding, for example, it could become difficult to access health care options and facilities.
"We have everything we need, we just have to ensure it is effective and responsive," he added. "The problem with climate change is that it will make access more expensive, more difficult and sometimes impossible."
-Steve Straehley
To Learn More:
Infectious Diseases Like It Hot: How Climate Change Helps Cholera and Salmonella Outbreaks (by Marlene Cimons, ClimateProgress)
How Global Warming Is Making Us Ill: Infectious Diseases Will Spread Faster Because of Climate Change, Claims Scientist (by Ellie Zolfagharifard, Daily Mail)
Infectious Diseases: Dengue Fever, West Nile Virus, and Lyme Disease (Natural Resources Defense Council)
Climate Change, Extreme Events and Increased Risk of Salmonellosis In Maryland, USA: Evidence For Coastal Vulnerability (Environment International)
Record Number of West Nile Deaths in 2014 Linked to Climate Change (by Ken Broder, AllGov California)