High-Profile Police Shootings of Blacks Bring About Shift in Perception of Race in the U.S.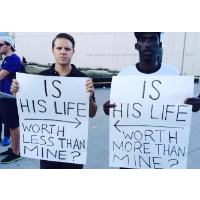 The publicity and protests following the police shooting of Michael Brown in Ferguson, Missouri, and subsequent deaths of African-Americans at the hands of law enforcement may finally be changing Americans' ideas of the state of race relations in this country.
Two polls released last week show that more white Americans believe there is work to be done to ensure African-Americans are treated equally. A Pew study showed that 59% of respondents believe there are changes needed to ensure that black people have the same rights as whites, while only 32% said enough had been done. According to a similar survey in March 2014, only 46% thought more work was needed, compared to 49% who said there had been enough changes. A Washington Post poll released Wednesday had similar results; 60% thought there was more work needed, compared to 37% who believed enough had been done.
Tony Rice, a Ferguson activist, told The Los Angeles Times that white residents have told him the events of the past year had caused them to rethink issues of race. "They said, 'We had no idea what you guys were being treated like,'" Rice said. "My thing was, 'Hey, we tried to tell you, you just didn't listen.' Now they're starting to listen."
As might be imagined, the biggest change in opinion came among white respondents. In the most recent poll, 53% said there is more work needed, compared to 39% saying that last year. Although only a minority of Republicans believe more changes are needed to ensure equal rights, they're also moving in the direction of change. Forty-two percent say more work is needed, compared to 29% in 2014.
Pew also found more people believe that racism is a big problem. Half of respondents in the most recent poll said it is a problem, compared to 33% five years ago.
Despite the recent controversy in South Carolina about the display of the Confederate flag on the capitol grounds there, most poll respondents don't have strong feelings about the banner. Fifty-six percent have neither positive nor negative feelings about the flag. Surprisingly, the number of black respondents who expressed no opinion wasn't much different; 49% had neither positive nor negative feelings about the flag.
-Steve Straehley
To Learn More:
After a Year of High-Profile Killings by Police, Americans' Views on Race Have Shifted (by David Lauter and Matt Pearce, Los Angeles Times)
Across Racial Lines, More Say Nation Needs to Make Changes to Achieve Racial Equality (Pew Research Center)
A Year After Ferguson, 6 in 10 Americans Say Changes Are Needed to Give Blacks and Whites Equal Rights (by Scott Clement, Washington Post)
Police Shoot to Death One Unarmed Person Every 3 Days in U.S. (by Noel Brinkerhoff, AllGov)
Young Black Men are 21 Times More Likely than White Ones to Be Killed by Police (by Noel Brinkerhoff, AllGov)
African-Americans Far more Likely to be Injured by Police than Whites (by Noel Brinkerhoff, AllGov)