NBA Player Traded 4 Times in One Week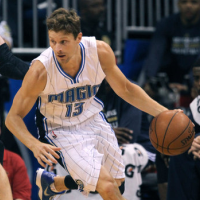 Luke Ridnour (photo: Reinhold Matay, AP)
Job-hopping generally doesn't look good on a resume. But NBA player Luke Ridnour's CV just got a lot longer in a short period of time.
In the run-up to the June 25 NBA draft and its aftermath, Ridnour was traded four times, with three of those moves coming in one day.
Ridnour, who's a solid role player but not a star, started out on the Orlando Magic, for whom he played last season and averaged 4.0 points and 2.0 assists per game. The Magic traded Ridnour to the Memphis Grizzlies, who sent him to the Charlotte Hornets, who in turn traded him to the Oklahoma City Thunder. That all happened June 25. Then Ridnour was traded again on June 30, just before the deadline for players to declare free agency, to the Toronto Raptors.
Fortunately, Ridnour didn't have to leave his living room during all this maneuvering, but he might have appreciated the frequent-flier miles.
The key to Ridnour's virtual journey around North America is his contract. It's a nonguaranteed deal for $2.75 million and it's used to clear space on teams' rosters for other players under the NBA's byzantine salary cap rules.
Being traded is nothing new to Ridnour. In fact, he was traded before he was ever in the league. The Seattle Supersonics (now the Oklahoma City Thunder) got the draft pick they used to take Ridnour in a trade with the Milwaukee Bucks. Ridnour ended up back with Milwaukee after the 2007-08 season as part of a three-way trade, then was sent in 2014 to the Charlotte Bobcats. He signed a two-year free agent deal with Orlando prior to last season.
It's likely Ridnour will be traded again before his contract becomes guaranteed on July 11.
Ridnour's hardly the only NBA player who has made many stops during a career in the league:
--Chris Gatling was traded eight times in his career, starting out with Golden State in 1993 and ending his run with Miami in 2002.
--Billy Owens was also traded eight times, starting with Sacramento in 1991 and finishing in Detroit in 2001.
--Don MacLean's journey started when he was drafted in 1992 by Detroit, traded on draft day to the L.A. Clippers, then traded again before the season started to Washington. He also was traded a total of eight times, ending his career with Toronto.
-Steve Straehley
To Learn More:
Veteran Luke Ridnour Rapidly Adds Four Teams to His Résumé (by Scott Cacciola, New York Times)
Most Traded Players in NBA History (by Micah Hart, AllBall)
Luke Ridnour (Basketball-Reference.com)