Owner of Biggest U.S. Coal Mine May Lack Insurance for Mine Cleanup, Dumping $1.4 Billion Risk onto Taxpayers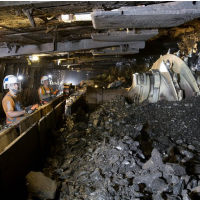 Peabody mine in Colorado (photo: Twentymile Mine)
Peabody Energy, the operator of the largest coal mine in the United States, does not have the money required by federal law to pay for mine cleanup in case it goes bankrupt.
An investigation by Reuters has shown that Peabody does not have the financial resources to self-bond. That means if the world's largest private coal company goes belly up, the federal government would have to step in and help pay to clean up Peabody's mines, which would cost about $1.38 billion, Reuters reported. When companies abandon a strip mine, they're required to replant vegetation, restore topsoil "to match the original topography," and rebuild the original surface ecosystem, according to ThinkProgress.
Peabody has not filed for bankruptcy, but posted losses of $700 million last year in a time of slumping coal prices. This week it announced plans to let go of 250 corporate and regional employees—including 50 people at its corporate headquarters—and shut down two of its operations in Indiana and Wyoming. The move is expected to save the company $45 million per year.
Companies must have a ratio of total liabilities to net worth of 2.5 times or less, and a ratio of current assets to current liabilities of 1.2 times or greater to qualify for self-bonding. Peabody claims it meets those requirements, but Reuters found that the company failed both those requirements at the end of 2014.
The fall in coal prices has called into question the practice of self-bonding, which was introduced in 1977 during a time of much higher prices. If companies can't self-bond, they must pay an outside company to insure against their cleanup costs.
-Noel Brinkerhoff, Steve Straehley
To Learn More:
The U.S.'s Biggest Coal Company Can't Pay To Clean Up Its Own Mines (by Claire Moser and Nicole Gentile, ThinkProgress)
Coal Giant Peabody Faces Federal Scrutiny Over Clean-Up Insurance (by Patrick Rucker, Reuters)
Feds to Investigate Coal Mine Cleanup Program (by Clark Williams-Derry, Sightline Daily)
Government Subsidies of Fossil Fuels Outdo Renewable Subsidies 6 to 1 (by David Wallechinsky, Noel Brinkerhoff, AllGov)