TSA Screeners Fail to Notice Mock Explosives and Banned Weapons in 67 of 70 Tests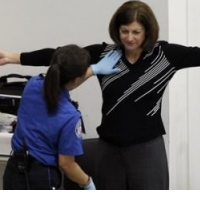 (photo: Ted S. Warren, AP)
Transportation Security Administration (TSA) airport security screeners failed virtually all of the tests conducted by government investigators to see how difficult it was to carry fake explosives and weapons through checkpoints.
It turns out it wasn't difficult at all.
The Department of Homeland Security (DHS), which oversees TSA, sent undercover investigators posing as passengers to dozens of the nation's busiest airports to test the ability of TSA workers who conduct pat downs and monitor body scanners. The results: TSA agents failed 67 out of 70 tests.
"In one test an undercover agent was stopped after setting off an alarm at a magnetometer, but TSA screeners failed to detect a fake explosive device that was taped to his back during a follow-on pat down," ABC News reported after obtaining a copy of the inspector general's report containing details about the investigation.
Homeland Security Secretary Jeh Johnson was displeased with the report and met personally with TSA leaders to find out what they planned to do to improve airport screening procedures.
"Upon learning the initial findings of the Office of Inspector General's report, Secretary Johnson immediately directed TSA to implement a series of actions, several of which are now in place, to address the issues raised in the report," DHS said in a written statement to ABC News.
The report also said that the $540 million spent on a checked-luggage screening system and $11 million for training since a 2009 review failed to have any positive effect on security.
-Noel Brinkerhoff
To Learn More:
Undercover DHS Tests Find Security Failures at U.S. Airports (by Justin Fishel, Pierre Thomas, Mike Levine and Jack Date, ABC News)
$1 Billion TSA Behavioral Screening Program Slammed as Ineffective "Junk Science" (by Noel Brinkerhoff, AllGov)
TSA's Guide to Spotting Potential Terrorists at Airports (by Steve Straehley, AllGov)