Pope Francis Ends Vatican Control of U.S. Nuns' Group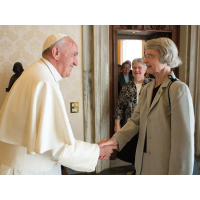 Pope Francis and Sister Marcia Allen (photo: LCWR)
After three years of negotiations, Pope Francis has ended the administration of the U.S. nuns' leadership group, handing control back to the nuns themselves.
Under Pope Benedict, the Vatican initiated the takeover of the Leadership Conference of Women Religious (LCWR), whose members represent about 80% of U.S. nuns. Some thought the group was going outside church teachings by hosting speakers and publishing materials that conflicted with Catholic doctrine on such matters as the all-male priesthood, birth control and sexuality, and the centrality of Jesus to the faith, according to Laurie Goldstein of The New York Times. A sister spoke of "moving beyond the church" and even beyond Jesus. That talk was, according to the Vatican, "a serious source of scandal" that promoted "radical feminist themes incompatible with the Catholic faith."
The Vatican's concerns about LCWR were documented in a "doctrinal assessment" (pdf) that was published in April 2012. Three bishops were charged with looking into LCWR and resolving the matter within a five-year time frame.
Archbishop J. Peter Sartain of Seattle, who was named to head the group investigating LCWR, met with the nuns and the two sides eventually collaborated on a rewrite of the group's statutes. The document clarifies that the Leadership Conference is "an official entity established by the Holy See under canon law," he said, "centered in Jesus Christ and the teachings of the church."
The group is as independent now as it was before the investigation. The Vatican approved the new language and its supervision of the group ended two years early.
It's unclear whether Pope Francis, who took over the church in the middle of the investigation, had anything to do with the final outcome. However, he did invite LCWR leaders for an audience, meeting with them for about an hour, "an extravagant amount of papal time," according to Eileen Burke-Sullivan, a theologian and consultant for women's religious orders and vice provost for mission and ministry at Creighton University.
"That was the surprise of it all for me. It was a conversation," Sister Marcia Allen, LCWR president-elect, told the Times in reference to the papal audience. "It was a back and forth of concerns and ideas. I was prepared for him to speak to us. But he was interested in what we were thinking."
-Steve Straehley
To Learn More:
The Nuns Spoke Out, but the Archbishop Listened (by Laurie Goldstein, New York Times)
Vatican Ends Battle with U.S. Catholic Nuns' Group (by Laurie Goldstein, New York Times)
Vatican Ends Seven-Year Investigation of U.S. Women Religious (by Cindy Wooten, Catholic Herald)
Final Report on the Apostolic Visitation of Institutes of Women Religious in the United States of America (Holy See Press Office)
Vatican Paper Endorses Blues Brothers as Catholic Film (by Noel Brinkerhoff, AllGov)