Outside Agitators and Violence in Baltimore: 70% of Baltimore Police Don't Live in Baltimore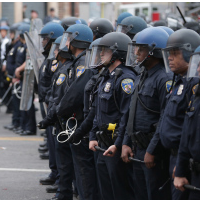 Baltimore police officers. Credit: Chip Somodevilla/Getty Images
So who are the "outside agitators" responsible for the violence in Baltimore following the death of Freddie Gray? Mayor Stephanie Rawlings-Blake said the looting and attacks were the product of unidentified hoodlums, not the residents of Baltimore.
But AlterNet's Max Blumenthal argued that the only individuals who participated in the violence—and who are known to live outside the city, if not the state of Maryland—were Baltimore police officers. As of 2012, more than 70% of Baltimore police officers lived outside the city with about 10% living out of state, some in New Jersey and Pennsylvania.
Writer D. Watkins, who grew up in Baltimore, argued last week in The New York Times that police brutality is partly a product of police officers living outside the communities they serve. "The police officers in Baltimore, as in many places in the country with dense black populations, are out of control, have been out of control," Watkins wrote. "One of the major reasons is that many Baltimore police officers don't live in Baltimore City; some don't even live in Maryland. Many don't know or care about the citizens of the communities they police, which is why they can come in, beat us and kill us without a sign of grief or empathy."
Nearly all of those arrested in the protests last week were local residents; no evidence of large numbers of outsiders coming in to stir up trouble was found.
-Noel Brinkerhoff
To Learn More:
You Will Be Surprised Who the Outside Agitators Really Are in Baltimore (by Max Blumenthal, AlterNet)
Most Baltimore Police Officers Live Outside the City (by Ritchie King, FiveThirtyEight)
In Baltimore, We're All Freddie Gray (by D. Watkins, New York Times)
More Than 40 Percent of City Employees Live Outside Baltimore (by Scott Calvert, Baltimore Sun)