Rare Caribou Win Reprieve against Snowmobilers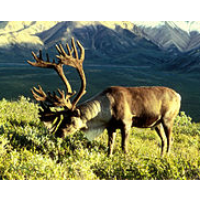 (photo: Wikipedia)
With just over a dozen of their species still alive in the United States, the woodland caribou caught a break this week in a decision by federal wildlife managers that went against the wishes of outdoor enthusiasts.
U.S. Fish and Wildlife Service (FWS) officials decided to extend a public comment period on whether the agency should downgrade the classification of woodland caribou from endangered to threatened.
The species has almost entirely disappeared from the lower 48 states, and currently numbers only 14 in parts of northern Idaho and Washington near the Canadian border. Their numbers have dwindled in the face of habitat destruction by loggers and off-trail snowmobilers, and because of predation by wolves and mountain lions, according to Reuters.
FWS decided to continue to accept public comments on its proposed changes affecting the caribou, also known as wild reindeer, until April 23. It did so in reaction to a ruling (pdf) by a federal judge in Idaho who said FWS violated federal law when, in 2012, it reduced the amount of public land designated as critical reindeer habitat from 375,000 acres to only 30,000 acres without giving the public enough time to consider and react to the plan. FWS had claimed that Canada's efforts to protect the caribou were sufficient.
"Relying on protected Canadian lands as a basis for overhauling the amount of occupied habitat proposed for designation in the U.S. was a new and unanticipated line of logic, which the public did not have an opportunity to review and comment on," wrote U.S. District Judge Edward Lodge in his order.
The judge's ruling was in response to a 2013 lawsuit filed by the Center for Biological Diversity, Defenders of Wildlife, Conservation Northwest, Selkirk Conservation Alliance, The Lands Council, and Idaho Conservation League.
FWS' efforts to downgrade the caribou's status is just the opposite of what Canada did, which was to upgrade its government's protection status from threatened to endangered.
-Noel Brinkerhoff
To Learn More:
U.S. Seeks Fresh Round of Public Input on Fate of Rare Reindeer (by Laura Zuckerman, Reuters)
Court Gives Idaho's Endangered Caribou Another Chance for Adequately Protected Critical Habitat (Center for Biological Diversity)
Judge Rules for Caribou, Against Feds (by Philip Janquart, Courthouse News Service)
Center for Biological Diversity v. Brian Kelly (U.S. District Court, Idaho) (pdf)