Food Allergies are no Joke: Children Die from Eating Pancakes and a Cookie
Wednesday, March 25, 2015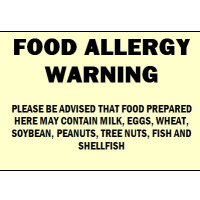 Food allergies can be deadly when those who suffer from them are misinformed about ingredients in the food they're served.
In Bemidji, Minnesota, 16-year-old Scott Johnson, who suffered from a severe allergy to milk, died after eating pancakes at the Minnesota Nice Cafe. His family had asked the restaurant if its gluten-free pancakes were also dairy free and even requested the grill be cleaned before their son's pancakes were made.
The server reported that she'd checked with the cook and that the pancakes Scott ordered were milk-free. Shortly after eating the pancakes, Scott experienced a severe anaphylactic reaction that caused his heart to stop.
He also had forgotten his EpiPen and nebulizer, which could have saved his life. By the time emergency services were called, it was too late.
A similar tragedy occurred to Derek Landon Wood, 11, of Shelby County, Alabama, after his family visited a store in Clarksville, Tennessee.
While inside a Publix supermarket, Wood wanted to eat a "Chocolate Chew" cookie. Due to the boy's allergy to tree nuts, his relatives first asked if the cookie was nut-free. They were told the cookie was nut-free. Derek suffered a fatal asthma attack after eating the cookie.
His family is now suing Publix, saying it should be held liable under the Food Allergen Labeling and Consumer Protection Act for not properly identifying allergens in the foods it sells.
-Noel Brinkerhoff
To Learn More:
Milk Allergy Death of 16-Year-Old Leads To Lawsuit (WCCO)
Teen Dies After Eating Pancake, a Lesson That Some Diners Aren't Just Picky Eaters (by Liz Dwyer, Takepart)
Shelby County Family Sues Publix after Death of 11-year-old (by Kent Faulk, AL.com)