$1 Billion TSA Behavioral Screening Program Slammed as Ineffective "Junk Science"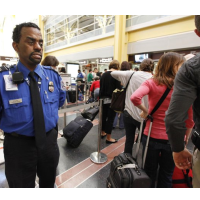 TSA behavior detection officer at work (photo: Manuel Balce Ceneta, AP)
The Transportation Security Administration (TSA) has been accused of spending a billion dollars on a passenger-screening program that's based on junk science.
The claim arose in a lawsuit (pdf) filed by the American Civil Liberties Union (ACLU), which has tried unsuccessfully to get the TSA to release documents on its SPOT (Screening Passengers by Observation Techniques) [pdf]) program through the Freedom of Information Act.
SPOT, whose techniques were first used in 2003 and formalized in 2007, uses "highly questionable" screening techniques, according to the ACLU complaint, while being "discriminatory, ineffective, pseudo-scientific, and wasteful of taxpayer money." TSA has spent at least $1 billion on SPOT.
The Government Accountability Office (GAO) reported in 2010 that "TSA deployed SPOT nationwide before first determining whether there was a scientifically valid basis for using behavior detection and appearance indicators as a means for reliably identifying passengers as potential threats in airports," according to the ACLU. And in 2013, GAO recommended that the agency spend less money on the program, which uses 3,000 "behavior detection officers" whose jobs is to identify terrorists before they board jetliners.
The ACLU contends SPOT uses racial profiling, even though TSA has a zero-tolerance policy for such singling out of people based on their ethnicity. The lawsuit says "passengers, as well as behavior detection officers themselves, have complained that this process results in subjecting people of Middle Eastern descent or appearance, African Americans, Hispanics, and other minorities to additional questioning and screening solely on the basis of their race." Furthermore, "there is no known instance in which these techniques were responsible for apprehending someone who posed a security threat" after years of using SPOT.
-Noel Brinkerhoff
To Learn More:
TSA Asked to Divulge Screening Techniques (by Adam Klasfeld, Courthouse News Service)
ACLU Sues TSA over Behavior Screening Program (by Bart Jansen, USA Today)
American Civil Liberties Union v. Transportation Security Administration (U.S. District Court, Southern New York) (pdf)
Request Under Freedom of Information Act/Expedited Processing Requested (American Civil Liberties Union) (pdf)
TSA Behavior Detection Technique Deemed Not Much Better than "Chance" (by Noel Brinkerhoff, AllGov)