First Case of Fish Removed from Endangered Species List Thanks to Habitat Restoration
Wednesday, March 18, 2015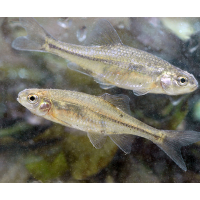 Oregon chubs (photo: Rick Swart, Oregon Department of Fish and Wildlife)
For once, a fish has been removed from the federal endangered species list without becoming extinct.
The Oregon chub was officially taken off the Endangered Species List by the U.S. Fish and Wildlife Service (FWS) following a two-decade effort to restore its habitat in the Willamette Basin. The three-inch-long minnow went from being nearly extinct in 1993, when biologists documented fewer than a thousand of the chubs, to about 140,000 today.
Paul Henson, Oregon supervisor for the FWS, called the fish's recovery "a significant milestone, not only for conservation in Oregon but for conservation in the whole country."
"The chub illustrates that you can recover species and get them off the list," Henson told the Corvallis Gazette-Times.
The agency intends to continue monitoring the Oregon chub for the next nine years to ensure its numbers hold strong. The chub is an important part of the ecosystem, consuming mosquito larvae and other invertebrates and is in turn a food source for larger animals.
-Noel Brinkerhoff
To Learn More:
Oregon Chub (Fish and Wildlife Service)
Oregon Chub Comes Off Endangered Species List (by Bennett Hall, Corvallis Gazette-Times)
Habit Restoration Brings Back Oregon Chub (by Karina Brown, Courthouse News Service)
Interior Dept. Agrees to Settle Status of 757 Endangered Species by 2018 (by Noel Brinkerhoff, AllGov)