Lawsuit Filed against "Prison Gerrymandering" in Florida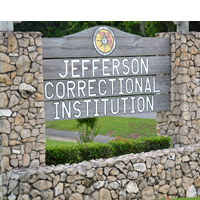 (photo: Florida Department of Corrections)
Officials in rural Jefferson County, Florida, have put into place an election map that includes one district in which nearly half the residents are ineligible to vote—because they're in prison. Now, the American Civil Liberties Union (ACLU) has filed suit challenging that system.
Jefferson officials included about 1,157 inmates at the Jefferson Correctional Institution among the residents of District 3, comprising 43.2% of the voting age population in the district. That gives those district residents not in prison outsized voting power because felons can't vote in Florida. Four Jefferson County residents and a civic organization, Concerned United People, are the plaintiffs in the suit filed Monday by the ACLU.
"The way the lines are drawn is clearly unfair," said one of the plaintiffs, Kate Calvin, a resident of Monticello, Florida, whose home is in District 2. "Why should my vote on what happens in our county and our schools have less of an impact than someone else's?"
The complaint (pdf) says that the districting plan, described as "prison gerrymandering," violates the 14th Amendment guarantee of one person, one vote. It's another way big prisons affect the local communities, according to ACLU of Florida legal director Nancy Abudu. "The public safety and economic costs are already well documented, but here we see how over-incarceration can even erode voting rights across an entire county," Abudu said in a release. "Because of the enormous prison population relative to the total size of Jefferson County, every four actual residents of District 3 have as much political influence in county and school elections as seven voters in the county's other four districts."
Eighty percent of U.S. residents live in states that allow prison gerrymandering. Several states have passed legislation to mandate that inmates be counted for census and election purposes as living in their home counties, rather than where they're in prison, according to the Prison Policy Initiative.
-Steve Straehley
To Learn More:
ACLU Files Lawsuit Challenging 'Prison Gerrymandering' Election Districts in Florida County (ACLU)
Prison Gerrymandering Lawsuit Accuses Florida County of Skewing the Vote (by Kira Lerner, ThinkProgress)
Kate Calvin, et. al., vs. Jefferson County Board of Commissioners (U.S. District Court) (pdf)
Prison Gerrymandering Project (Prison Policy Initiative)