First Accredited Muslim College in United States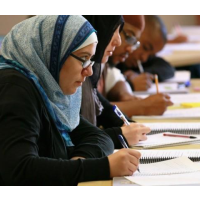 Students at Zaytuna College (AP photo)
America has its first accredited Muslim college, joining the ranks of other institutions of higher learning with theological roots.
Zaytuna College, based in Berkeley, California, received its accreditation from the Western Association of Schools and Colleges last weekend. The founders are Hatem Bazian, who also works at UC Berkeley as a senior lecturer, and Hamza Yusuf, who serves as the college's president, and Zaid Shakir, said to be "prominent American converts to Islam," according to ThinkProgress. Yusuf is considered by some to be the most influential Muslim scholar in the Western world.
The school said in a statement: "[Accreditation] helps ensure that Zaytuna successfully fulfills the objectives outlined in its curriculum, which grounds its students in both the Islamic and Western scholarly traditions."
The liberal arts school was founded in 1996 as an institute and also operated as an Islamic seminary before transforming into a four-year college in 2009. It offers a B.A. in Islamic Law and Theology as well as courses in politics, astronomy, and American history, among others.
Jack Jenkins at ThinkProgress noted that "religiously-affiliated colleges are plentiful in the United States, but the vast majority are Christian, such as Liberty University, the University of Notre Dame, Kenyon College, or Boston College. There are a few Jewish higher education institutions such as Brandeis and Yeshiva University, and even some Buddhist schools."
-Noel Brinkerhoff
To Learn More:
America Just Got Its First Accredited Muslim College (by Jack Jenkins, ThinkProgress)
Zaytuna is Now the First Accredited Muslim College in America (Zaytuna)
The First Accredited Muslim College in America (by Azra Haqqie, Times Union)
U.S. Muslim Clerics Seek a Modern Middle Ground (by Laurie Goodstein, New York Times)