Organized Crime Muscles into New Field: Endangered Species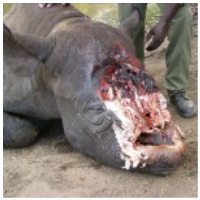 Dehorned rhino (photo: environmentafrica.org)
Defenders of wildlife are trying to recast the problem of illegal poaching as an issue related to organized crime in an effort to get more attention and resources devoted to stopping the slaughter of endangered species.
"We need to treat wildlife crime as a serious crime [just like] trade in illicit narcotics," John Scanlon, secretary general for CITES, the governing body that regulates international wildlife trade, told The Crime Report.
Scanlon and others want governments to find out who is behind the large-scale poaching of exotic animals such as African elephants and rhinos.
"We went from losing 13 rhinos a year to three a day," Nik Sekhran, a director of sustainable development for the United Nations Development Program, said of poaching in South Africa since 2007. "The country was completely overwhelmed by the scope of the problem and is struggling to keep up. It's the same everywhere. We need a concerted global effort."
The illegal trade as a whole is worth somewhere between $7 billion and $23 billion, according to a new report from the United Nations Environment Program (UNEP). In just one three-year period, about 100,000 elephants were killed, largely for their ivory tusks sold on the black market throughout the world. More than 1,200 rhinos were poached in South Africa last year.
The UNEP report says the illegal trade was responsible for the killing of 643 chimpanzees, 48 bonobos, 98 gorillas and 1,019 orangutans from 2005 to 2011. UN Secretary General Ban Ki-moon said the illicit animal trade undermines "the rule of law and threatens national security.
"Combatting this crime is not only essential for conservation efforts and sustainable development, it will contribute to achieving peace and security in troubled regions where conflicts are fueled by these illegal activities," Ban said in a statement.
-Noel Brinkerhoff
To Learn More:
Organized Crime Threat to Wild Species on the Increase, Says UN on Wildlife Day (United Nations Environment Program)
Organized Crime's New Target: Endangered Species (by Cara Tabachnick, Crime Report)
The Environmental Crime Crisis (United Nations Environment Program and INTERPOL)
International Illegal Trade in Wildlife: Threats and U.S. Policy (Congressional Research Service)