Sen. Coburn's Parting Shot Blasts Failures of Homeland Security Dept.
Wednesday, January 07, 2015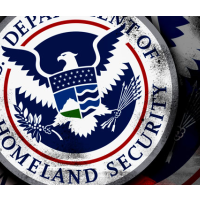 (AP graphic)
Republican Senator Tom Coburn has retired from Congress, but the frequent government critic took the opportunity before stepping down to level one last blast at one of the largest, and most controversial agencies: the Department of Homeland Security (DHS).
In a 162-page report, the now former senator from Oklahoma accused the $60 billion DHS of falling short of fulfilling its key objectives to protect the nation.
"Based upon the available evidence, DHS is not successfully executing any of its five main missions," Coburn wrote. "Many of DHS's programs, in fact, are ineffective and should be reconsidered."
Coburn's complaints start with the department's first mission of "preventing terrorism and improving security."
He says: "DHS's main domestic counterterrorism programs—including its intelligence initiatives and homeland security grants—are yielding little value for the nation's counterterrorism efforts. Independent reviews—including audits and investigations by watchdogs—show that DHS's intelligence and analysis programs, including its state and local fusion centers and other information sharing programs, are ineffective or providing little value."
The Federal Emergency Management Agency (FEMA), which falls under DHS, has done a poor job of keeping track how homeland security grants, "which were originally intended to improve our ability to prevent terrorist attacks" are being spent at the state and local level.
Coburn puts some of the blame on his former colleagues, saying they represent "one of the most significant challenges DHS faces."
"Parochial politics and overlapping jurisdiction between various congressional committees and subcommittees too often hinder and impede DHS's mission and programs. Reforming DHS, therefore, must begin with changing Congress's approach to homeland security."
-Noel Brinkerhoff
To Learn More:
A Review of the Department of Homeland Security's Missions and Performance (by Senator Tom Coburn)
Homeland Security Dept. Blunder Opened Door to Cybersecurity Attacks on Power and Water Systems (by Steve Straehley, AllGov)
Sen. Coburn Blocks Funding for Veterans Suicide Prevention Web Site (by Noel Brinkerhoff, AllGov)
Senators Coburn and Lee Fight to Halt Creation of a Women's History Museum (by Noel Brinkerhoff, AllGov)
Judge Orders Homeland Security to Release Details for Shutting Down Wireless Networks (by Matt Bewig, AllGov)