NHL Season Produces as much Carbon Dioxide as 115,000 Cars
Wednesday, December 24, 2014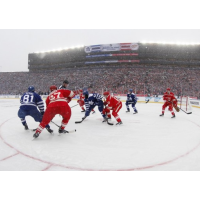 (AP photo)
Playing professional hockey is not easy on the atmosphere, it turns out, which is why the National Hockey League (NHL) wants to reduce its impact when it comes to greenhouse gases.
The NHL each year produces a carbon footprint that is equal to what 115,000 automobiles spew in terms of carbon dioxide (CO2). The vast majority of it—75%—is generated by electricity use; the rest comes from use of water and the methods of team transportation.
To offset this unwanted contribution to global warming, the league has announced it would purchase enough renewable energy credits next season to balance out the 550,000 metric tons of CO2 its teams emit annually.
"Our sport was born on frozen ponds and relies on winter weather," NHL commissioner Gary Bettman said in a statement. "Everyone who loves our game will benefit by taking an active role in preserving the environment and the roots of the game."
The NHL announcement was "the most important environmental initiative ever made by a sports league," Green Sports Alliance president Allen Hershkowitz told The Washington Post.
"They're going to audit lighting, motors, heating, ventilation and everything else to see if it's outdated," he said of the NHL's efforts. "It's a complicated undertaking. Baseball doesn't have this going on, the National Basketball Association doesn't have this going on, the National Football League doesn't have this."
The sport has a particular interest in not making the world a warmer place if it means fewer frozen bodies of water for future hockey players to skate on and to develop a love of the sport.
A report produced by the NHL noted: "Perhaps more than any other sport, hockey is impacted by environmental issues, particularly climate change and freshwater scarcity."
"The ability to skate and play hockey outdoors is a critical component of the League's history and culture," the report added. "Many of the NHL's players, both past and present, learned to skate outside on frozen lakes, ponds and backyard rinks. The game of hockey is adversely affected if this opportunity becomes unavailable to future generations."
-Noel Brinkerhoff
To Learn More:
Faced With Melting Ice, The NHL Is Going Carbon Neutral (by Emily Atkin, Climate Progress)
Worried about Melting Ice, Pro Hockey Vows to Go Green (by Darryl Fears, Washington Post)
NHL Names Constellation its Official Energy Provider (National Hockey League)