Should Right to an Attorney Extend to Eviction Cases?
Monday, December 15, 2014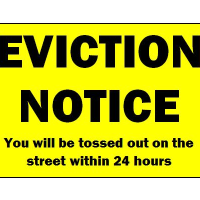 (graphic: Steve Straehley, AllGov)
For more than 50 years, courts have guaranteed counsel in at least some cases in which a defendant could lose his or her freedom. Now some jurisdictions are considering whether the same right should be extended to those in danger of losing the roof over their heads.
New York City is considering legislation that would guarantee defendants the right to counsel during an eviction hearing. If the city council there approves the proposal, it would be following in the footsteps of San Francisco, which in 2012 passed a similar plan that increases access to legal aid for those facing eviction. That move came as more building owners have been seeking to evict rent-paying tenants to facilitate turning their buildings into condominiums.
According to Victoria Bekiempis of Newsweek, "In New York City, some 90 percent of tenants in housing court don't have attorneys. Approximately 90 percent of landlords do."
It has been shown that when tenants have legal representation in eviction hearings, the result is almost always better for them. The New York Legal Assistance Group found that 96% of those people they're able to represent either get to stay in their homes or at least are able to stave off eviction long enough to make other arrangements.
"These proceedings cannot be fundamentally fair without people having counsel. Without a lawyer, they don't have a good chance of being able to explain their case to the court," John Pollock, coordinator of the National Coalition for a Civil Right to Counsel and an attorney at the Public Justice Center, told Newsweek. "That kind of power imbalance often leads to incorrect results."
Incorrect—and tragic. About 20% of those in New York shelters land there immediately following an eviction. And putting up someone in a shelter's not cheap—it costs the city about $36,000 a year for each person, New York City Councilman Mark Levine told Newsweek.
Paying for an attorney to represent a client in housing court would cost the city about $1,600 to $3,200. There were about 30,000 evictions last year in New York. The math here is pretty easy to figure out.
Of course, the numbers don't work for the real estate industry. They've been fighting the legislation, giving $43.9 million to candidates and associated groups since 2005, according to Common Cause. An eviction can work to a landlord's advantage, allowing them to raise rents in rent-controlled buildings enough to offset the cost of hiring an attorney to get a tenant moved out.
-Steve Straehley
To Learn More:
Housing: The Other Civil Rights Movement (by Victoria Bekiempis, Newsweek)
Right to Counsel in Housing Court: the Time Has Come (New York Legal Assistance Group)
Evictions Soar as State's Ellis Act Empowers San Francisco Gentrification (by Ken Broder, AllGov California)