Growing Anxiety over U.S. Technology Seen in Europe's Call for Breakup of Google
Saturday, November 29, 2014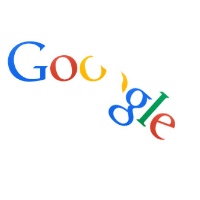 (graphic: Steve Straehley, AllGov)
Google is viewed by some across the Atlantic as too big, so much so that the European Parliament voted to break up the company.
The Parliament on Thursday adopted a nonbinding resolution calling for the dissolution of Google. The vote was merely symbolic because the legislative body lacks the legal authority to force Google to divest portions of its empire. But it demonstrated just how fed up Europeans are with the growing might and invasive capabilities of American technology. That goes for Internet businesses such as Google or the U.S. government's top eavesdropping authority, the National Security Agency.
"European fears of American technology giants have been stoked in the last 18 months by the revelations of Edward J. Snowden, the former National Security Agency contractor, about American intelligence agencies' spying activities and perceived easy access to the world's tech infrastructure," James Kanter of The New York Times reported.
Much of the opposition to Google and other U.S. technology companies comes from Germany, according to the Financial Times. The country has already halted ride-sharing service Uber from doing business there and some of its politicians are calling for Google's breakup as well.
Others would like to see a European alternative to Google, much as passenger aircraft manufacturer Airbus was developed as a multinational rival to Boeing. Previous efforts toward that end have failed, although Qwant, a French-based search engine emphasizing user privacy, has some prominent investors.
Google could run into legal troubles in Europe if the EU's new antitrust chief, Margrethe Vestager, decides to go after the company for unfair business practices. Vestager's office has been looking into Google's dealings for four years now.
Vestager could levy a large fine on Google or demand it change some of the ways it does business, but certainly nothing on the order of splitting up the corporation, according to James Kanter.
-Noel Brinkerhoff
To Learn More:
EU Parliament Passes Measure to Break Up Google in Symbolic Vote (by James Kanter, New York Times)
Europe Strikes Back (by Jeeven Vasagar, Richard Waters and James Fontanella-Khan, Financial Times)
Big Tech at Bay (by Richard Waters, Financial Times)
Obama Administration Criticizes EU Plan to Avoid NSA Data Surveillance as a Violation of Trade Agreement (by Noel Brinkerhoff, AllGov)
NSA Revelations Prompt EU Call for Shift Away from U.S. Internet Governance (by Noel Brinkerhoff, AllGov)
Which is Worse…Obama is Lying about Not Knowing NSA Eavesdropping Details or that he Really Didn't Know? (by Noel Brinkerhoff, AllGov)