Senate Committee Accused of Failing to Interview Men Tortured by CIA for its Torture Report
Wednesday, November 26, 2014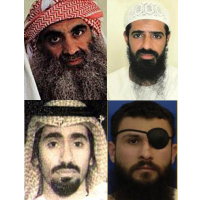 Clockwise from top left: Mohammed, bin Attash, Zubaydah and Nashiri (photos: Wikipedia)
Next month, the Senate intelligence committee is expected finally to release portions of its report on the Central Intelligence Agency's (CIA) torture program under President George W. Bush. But the long-awaited findings have already come under criticism by those representing four victims of torture who have wondered why Senate investigators never bothered to question their clients.
The four, still in custody at Guantanamo Bay, are 9/11 mastermind Khalid Sheikh Mohammed, 9/11 co-conspirator Walid bin Attash, accused USS Cole bomber Abd al-Rahim al-Nashiri, and al-Qaeda militant Abu Zubaydah.
Their attorneys say the failure to include the men's testimony in the report raises questions about the thoroughness of the Senate probe.
"If you're conducting a genuine inquiry of a program that tortured people, don't you begin by talking to the people who were tortured? It seems here, as far as my client is concerned, no effort was made to do that," David Nevin, who represents Mohammed, told The Guardian.
Three of the four men— Mohammed, Nashiri and Zubaydah—were waterboarded, the CIA has admitted. Mohammed was subjected to the procedure 183 times, while Zubaydah got it 83 times and Nashiri two or three times. Nashiri was "also threatened with a gun and a power drill," according to The Guardian's Spencer Ackerman. Bin Attash was doused with cold water and then wrapped in plastic sheeting before being interrogated at a secret prison in Poland.
-Noel Brinkerhoff
To Learn More:
Highest-Value Terror Detainees Excluded from Senate Investigation of CIA Torture (by Spencer Ackerman, The Guardian)
Ten CIA Rendition Victims Urge Obama to Name them in Senate Torture Report (Reprieve)
Senators Complain about Obama Administration Censorship of Torture Report (by Noel Brinkerhoff, AllGov)
Still Secret Report Accuses CIA of Fighting White House, Congress and its own Inspector General to Hide Torture Details (by Steve Straehley, AllGov)