10 Years after 9/11 Commission Recommended it, FCC Finds Funds for National First Responder Communications Network
Friday, November 21, 2014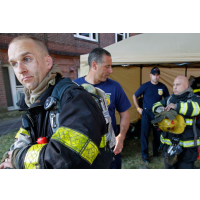 (AP photo)
A decade after the 9/11 Commission suggested creating a unified communications network for first responders to use during emergencies, the Federal Communications Commission (FCC) has finally collected enough money to move forward.
The commission recommended that the federal government create a way for police and firefighters from different jurisdictions to communicate with each other in a crisis—something they couldn't do during the response to the 9/11 attacks.
Congress got into the act two years ago by passing legislation that authorized the FCC to reserve certain broadcast frequencies for public safety use.
The FCC, though, was left on its own to find funding for the new network, called FirstNet. So the commission auctioned off a band of wireless frequencies to telecommunications companies, which netted more than $11 billion to establish FirstNet.
The FCC only needs about $7 billion for the project, so the rest of the money is expected to go towards paying down the national debt.
Verizon, AT&T, T-Mobile, and Dish Network all registered to bid on the wireless spectrum, but the FCC has not announced the winners of the auction.
-Noel Brinkerhoff
To Learn More:
The Government Just Found the Funds to Give Firefighters High-Speed Internet Everywhere (by Brendan Sasso, National Journal)
FirstNet Devotes Half Its Budget to RFP Development (by Jill Nolin, Urgent Communications)
The Nine 9/11 Commission Recommendations Still Unmet (by David Wallechinsky and Noel Brinkerhoff, AllGov)