U.S. Preterm Birth Rate Drops to 17-Year Low
Sunday, November 16, 2014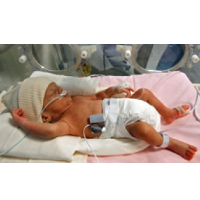 (photo: Claude Paris, AP)
The number of babies born prematurely has fallen to a 17-year low, helped by increased access to healthcare and a drop in the number of women who smoke.
The preterm birth rate was 11.4% in 2013, according to the March of Dimes, meeting the federal goal that was set for 2020. More than 450,000 babies arrived before their due date, compared to 542,893 in 2006, a rate of 12.8%.
The drop saved $11.9 billion in healthcare costs, according to the March of Dimes. Medical expenses for a premature baby are about $54,000, while costs for a healthy one are about $4,000.
The uninsured rate for women fell from 20.1% to 19.8% and it's likely to drop further with the enactment of the Affordable Care Act. Smoking among women fell from 20.8% to 20.5%.
Another cause of preterm births is the practice by some of medically unnecessary inductions or Caesarian sections, which have also fallen slightly from 8.1% to 8.0%.
Despite the achievement, the March of Dimes would like to see more progress. "Achieving the Healthy People 2020 goal is reason for celebration, but the U.S. still has one of the highest rates of preterm birth of any high resource country and we must change that," March of Dimes President Dr. Jennifer L. Howse said in a release.
The organization has set a goal of a target of 9.6% premature births for 2020.
Black women had the highest rate of preterm births at 16.5%, followed by Native Americans at 13.4%, Hispanics at 11.6%, whites at 10.3% and Asians at 10.0%.
-Steve Straehley
To Learn More:
U.S. Preterm Birth Rate Hits Healthy People 2020 Goal Seven Years Early (March of Dimes)
March of Dimes 2014 Premature Birth Report Card
U.S. Has Highest Mortality Rate for Newborns of any Industrialized Country (by Noel Brinkerhoff and Danny Biederman, AllGov)