FDA Tests less than 1% of Food Products for Pesticide Residue
Tuesday, November 11, 2014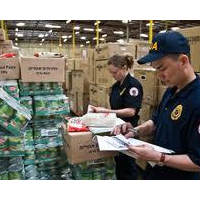 FDA inspectors at work (AP photo)
Consumers count on the Food and Drug Administration (FDA) to keep food safe, but the agency tests very little of the produce sold in the United States for pesticides and some of its methods were deemed incomplete, according to a recent report.
The Government Accountability Office (GAO) found the FDA "takes relatively few targeted samples to test for pesticide residue and detects what is likely to be a small percentage of the foods that have violative levels of residue. Moreover, FDA does not disclose in its annual monitoring reports that it does not test for some commonly used pesticides that have established tolerances for many commodities."
The FDA tests only one-tenth of 1% of the food imported for use on U.S. dinner tables, and that's actually far more testing than happens to domestic food. The GAO said the FDA tests only about a quarter as many domestic products as imported. "According to its recent annual reports, FDA has placed a greater emphasis on testing imported foods because it has found a higher percentage of imported samples with violations," according to the report.
This is startling considering that "from 1970 to 2007, hundreds of millions of pounds of pesticides were applied annually to U.S. food crops to protect them from pests," the GAO wrote.
The lack of testing includes pesticides that another federal agency, the Environmental Protection Agency, considers dangerous enough for which to have tolerance levels, Common Dreams noted.
"FDA takes relatively few targeted domestic and imported samples to test for pesticide residues. Additionally, FDA does not test for several widely used pesticides that have established tolerances for many commodities, meaning that it is unable to detect violations of those tolerances," the GAO reported.
Food safety advocates at the Center for Biological Diversity, a nonprofit conservation organization, criticized the lack of pesticide inspections at the FDA.
"The FDA is supposed to be protecting the American people from dangers in their food and it's clear they've dropped the ball when it comes to pesticides," Lori Ann Burd, endangered species campaign director for the organization, said in a statement.
-Noel Brinkerhoff, Steve Straehley
To Learn More:
FDA and USDA Should Strengthen Pesticide Residue Monitoring Programs and Further Disclose Monitoring Limitations (Government Accountability Office) (pdf)
How Much Pesticide Residue on Your Produce? FDA Doesn't Know (by Andrea Germanos, Common Dreams)
Toxic Pesticides Banned in Other Countries Continue to be used in U.S. (by Noel Brinkerhoff, AllGov)
Genetically Engineered Crops Lead to Increase in Use of Herbicides (by Noel Brinkerhoff and David Wallechinsky, AllGov)