One Cop in Charge of 461 Sex Offenders
Tuesday, September 23, 2014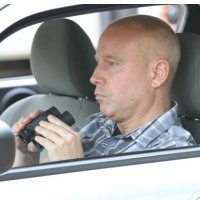 Officer Chris Poncia (photo: Andrew Dickerman, Providence Journal)
Providence, Rhode Island, has one police officer who does nothing but keep an eye on convicted sex offenders in that city.
Officer Chris Poncia has 461 people in his case file, all the sex offenders in Providence. His beat includes 175 Level 2 and 3 offenders, who are classified this way because they're considered likely to commit sex crimes again.
Poncia is unique among his peers in Rhode Island, which has about 1,600 sex offenders. He is the only cop in the state who does nothing but patrol the sex offender beat. His days start by waiting at the police station for newly released sex offenders to register. But while much of his day is spent making sure sex offenders don't repeat their crimes, Poncia also tries to be helpful to those offenders attempting to stay on the straight-and-narrow. "Chris is good. He helps us. He takes care of things," Wayne Burdick, a 62-year-old convicted child molester, told Amanda Milkovits of the Providence Journal.
But the state capital is something of a "hub" for these criminals, according to Milkovits , due to the city's many social services and low-income housing.
The vast majority of Poncia's arrests are, not surprisingly, those convicted of sexual crimes. Of the 518 people he's brought in since taking over this beat, 302 were sex offenders.
Having someone on the beat full time helps ensure that offenders are properly registered. A recent audit by the state of New York found 15 police agencies failed to arrest released sex offenders who didn't have a current photo on file or verify their address.
-Noel Brinkerhoff, Steve Straehley
To Learn More:
Officer Chris Poncia Keeps Watch on Providence's Sex Offenders (by Amanda Milkovits, Providence Journal)
Audit: Police Lax on Sex-offender Monitoring (by Denise Nickerson, Poughkeepsie Journal)
Sex Offender Registration (Office of the New York State Comptroller) (pdf)
Supreme Court Upholds Imprisonment of Sex Offenders after Sentences Served (by Noel Brinkerhoff, AllGov)