Minnesota Vikings Lead NFL in Player Arrests
Monday, September 15, 2014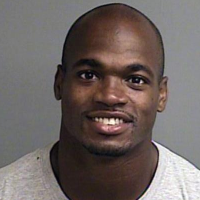 Adrian Peterson (photo: Montgomery County Jail)
It's early in the National Football League season, but the Minnesota Vikings have already outshined the rest of the league in one respect: They are the leaders in player arrests since 2000.
The latest Viking to have his mugshot taken is Adrian Peterson, Minnesota's star running back, who is accused of beating his 4-year-old son with a switch, or tree branch. Peterson turned himself in to Texas police last week and the Vikings moved quickly to declare Peterson ineligible for Sunday's game against the New England Patriots. The team has had experience dealing with these issues; 45 Minnesota players have been arrested since January 2000, according to USA Today, which maintains a database of NFL player arrests. It's not even the first time Peterson has been arrested. In 2012, he was charged with resisting arrest in a Houston nightclub. The charges were later dropped.
An analysis of the data by The New York Times shows that it's not a matter of a team having some bad luck over a couple years with players being arrested. The Vikings and the Cincinnati Bengals, the team with the second-most arrests at 43, consistently have more players arrested than other teams. Those teams, along with the Denver Broncos with 40 team arrests, are way ahead of the pack. No other team has more than 32 arrests.
There's no data on why some teams have more arrests than others, but The Times' Neil Irwin suggests two explanations. The first is the culture of the team. "The top management of a franchise may send a message to personnel scouts and coaches that they are either more or less tolerant of signing players who have had legal problems in the past," Irwin wrote.
The second possible explanation is the location of the team. "Different cities have different patterns of living and different approaches to law enforcement," Irwin wrote. "Perhaps players for the Jets and the Giants (both with persistently low arrest rates) are at less risk of arrest for DUI because people are less likely to need to drive themselves to nightclubs in Manhattan. Or perhaps in some cities, young African-American men driving expensive cars attract more police attention than in others."
Which are the most law-abiding teams? The Arizona Cardinals, St. Louis Rams and Houston Texans are tied with 11 arrests each, although the Texans only began play in 2002.
And despite the publicity surrounding Peterson and the video of Baltimore Ravens running back Ray Rice purportedly beating his then-fiancée (now wife) in the elevator of an Atlantic City casino, arrests of NFL players are actually significantly down this year. The peak was in 2006, when 67 players were arrested. Only 38 players have been arrested so far this year. But as they say, it's early in the season and anything can happen in the National Football League.
-Steve Straehley
To Learn More:
What the Numbers Show About NFL Player Arrests (by Neil Irwin, New York Times)
Vikings' Adrian Peterson Released On Bond, Won't Play Sunday (by Matt Vensel, Minneapolis Star-Tribune)