Fish & Wildlife Declares 300 Wolverines are not Threatened by Climate Change
Thursday, August 14, 2014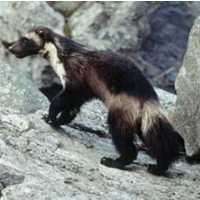 Wolverine (photo: Ken Curtis, Defenders of Wildlife, AP)
Despite the animal's dwindling numbers and the potential for more losses stemming from climate change, the North American wolverine will not become an endangered species, federal regulators have decided.
The Fish and Wildlife Service (FWS) announced this week it withdrew its proposal to grant wolverines protection under the Endangered Species Act—even though there are only 300 left in the wild.
FWS scientists in Montana first suggested protecting the animals, saying the loss of spring snow from global warming could adversely impact the species that lives in underground dens. Climate change had been used as a justification for the listing of polar bears as a threatened species in 2008.
Dan Ashe, the FWS' director, insisted his agency was not ignoring the ramifications of climate change, just that the science is inconclusive as to what it will mean for wolverines. "Climate change is a reality," Ashe told the Associated Press. "What we don't know with reliability is what does climate change mean for denning habitat that wolverines prefer." He added that there is evidence of an expanding population. "it's possible wolverines are adapting and continuing to adapt."
The decision to not list the species upset environmentalists.
"What's happened today is nothing less than a travesty of science," Jeff Copeland, a research biologist and executive director of The Wolverine Foundation in Idaho, told the AP. "This was not a scientific process. It was a political process."
Officials from some western states opposed federal protections, saying the wolverine's population has increased in some areas.
-Noel Brinkerhoff
To Learn More:
Federal Proposal To Protect Wolverines Withdrawn (by Brett Prettyman, Salt Lake Tribune)
Feds Reverse Course on Wolverines (by Matthew Brown, Associated Press)
Feds Turn Away from Protecting Wolverines as Colorado's M56 Is MIA (by Bruce Finley, Denver Post)