Majority of Americans Support Treatment of Migrant Children as Refugees, Not Illegal Immigrants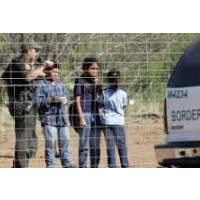 (AP photo)
After weeks of media coverage and debate about the tremendous influx of unaccompanied children into the United States, a strong majority of Americans say the young immigrants should be treated as refugees, and not simply kicked out of the country like undocumented adults.
A survey conducted by the Public Religion Research Institute (PRRI) revealed 69% of respondents agreed with the idea that the children should remain as refugees and be permitted to stay "if authorities determine it is not safe for them to return to their home country." Eighty-three percent of Democrats, 66% of independents and even 52% of Republicans agree with the statement.
A little more than a quarter of those surveyed said the youths should be "treated as illegal immigrants" and deported to their home countries.
"There is broad consistency for a policy offering support for the unaccompanied children and a determination process, not just an open door," said PRRI chief executive Robert P. Jones, according to The New York Times.
A clear majority (56%) of respondents feel the families of the children were trying to do what's best for them by getting them away from the violence in their Central American homelands. At the same time, 59% responded that allowing children to stay would "encourage others to ignore our laws and increase illegal immigration."
-Noel Brinkerhoff
To Learn More:
Most in Poll Say Children at Border Merit Relief (by Julia Preston, New York Times)
Nearly 7-in-10 Americans See Unaccompanied Children at Border as Refugees, Not Illegal Immigrants (Public Religion Research Institute)
Why do Unaccompanied Minors Try to Come to the U.S.? They're Fleeing Violence, Gangs and Poverty…and Looking for Family Members (by Noel Brinkerhoff, AllGov)
What to do about Children Illegally Crossing into the U.S. Alone? (by Noel Brinkerhoff, AllGov)