International Boom in Demand for California Almonds Threatens Water Supply in Times of Drought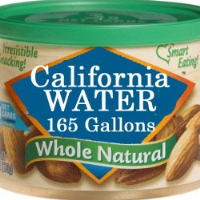 (graphic: Steve Straehley, AllGov)
The world has developed quite the craving for almonds, which is good for California farmers, who produce 80% of the global supply of the nuts. But it's also bad news for the water supply of the state, particularly as it goes through its worst drought on record.
Almonds are a ridiculously water-intensive crop, with more than a gallon of water used to produce each one. Multiply that by 2 billion pounds—the amount of almonds California grows each year—and it's not hard to see how this lucrative crop has a serious downside for the state.
Meanwhile, demand for almonds has soared, thanks in part to growing Asian economies. The result is a tripling of California's almond production over the past 14 years. Prices for the crop doubled and for some varieties tripled from 2009 to 2013.
With reservoirs dropping, resulting in drastic reductions in surface-water deliveries to the Central Valley, farmers have resorted to sinking more wells to pull water from aquifers. This in turn has lowered the water table, causing the ground to sink in some parts of the state, which has dire ramifications for roads, bridges and other infrastructure. It's also causing the Sierra Nevada Mountains to slowly rise, according to a paper published earlier this year in Nature. That rise could cause earthquakes, according to researchers.
-Noel Brinkerhoff
To Learn More:
Your Almond Habit Is Sucking California Dry (by Tom Philpott, Mother Jones)
The Thirsty West: 10 Percent of California's Water Goes to Almond Farming (by Eric Holthaus, Slate)
How Does Personal Water Conservation Help When BigAg Is Using Most of It? (by Ken Broder, AllGov California)