Florida Judge Slams GOP for Illegal Redistricting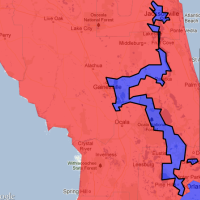 Gerrymandered District 3 in Florida (graphic: AP)
A Florida judge threw out maps for two of the state's congressional districts and in doing so blasted Republican state legislators for their gerrymandering of political boundaries to favor GOP politicians.
Judge Terry P. Lewis of Florida's Second Judicial Circuit accused Republicans, who control both houses of the legislature and the governor's office, of making a "mockery" of the redistricting process.
He also noted that in employing political operatives to craft Republican-friendly boundaries, the GOP had violated a state law intended to make the election process more balanced and fair. "Republican political consultants or operatives did, in fact, conspire to manipulate and influence the redistricting process," Lewis wrote. He even quoted George Washington in warning of the use of "cunning, ambitious and unprincipled men."
The ruling will mean that the maps for Florida's 5th and 10th districts must be redrawn before the 2016 election. But in doing so, the new lines will affect nearby districts. The decision will probably not affect this November's contests.
The 5th is currently held by a Democrat (Representative Corrine Brown) and the 10th by a Republican (Representative Daniel Webster).
Floridians approved constitutional amendments in 2010 that mandate cohesive Congressional and state legislative districts that favor neither party.
Republican leaders are expected to appeal Lewis' ruling.
-Noel Brinkerhoff
To Learn More:
Judge Rules G.O.P. Illegally Redrew Florida Districts (by Lizette Alvarez, New York Times)
Florida Labeled Worst Gerrymandered State (by Noel Brinkerhoff, AllGov)