Study Finds Increased Chance of Autism for Children Born Near Commercial Pesticide Use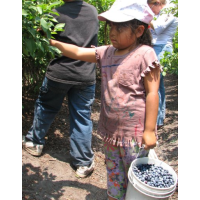 6-year-old working in a blueberry field in North Carolina, 2008, (photo: Heather Anderson, AP)
University researchers are warning pregnant women that living too close to farm fields sprayed with pesticides can dramatically increase the risk of their child becoming autistic.
The UC Davis MIND Institute released a study showing expectant mothers exposed to certain agricultural chemicals, specifically organophosphates, face a 60% higher chance of having autistic offspring. The danger is especially prevalent during the second and third trimesters of pregnancy.
Dr. Irva Hertz-Picciotto, senior author of the report and professor and vice chair of the university's Department of Public Health Services, warned women who reside near croplands to "leave town or keep their children away or close the windows" during pesticide spraying. Those at risk include residents near fields growing cantaloupes, melons, oranges, tomatoes, cotton and alfalfa, where organophosphates are employed.
The most commonly applied pesticide in the study, Chlorpyrifos, an organophosphate, was phased out for household use by the Environmental Protection Agency in 2000 because it has potential to cause neurological effects.
The study is not the first from UC Davis to link autism with agricultural pesticide exposure. In 2007, university researchers warned of "an association" between the two, according to the Fresno Bee.
-Noel Brinkerhoff
To Learn More:
UC Davis Study Links Autism To Pesticides (by Barbara Anderson, Fresno Bee)
UC Davis Study Finds Link Between Pesticides, Autism (by Edward Ortiz, Sacramento Bee)
Air Pollution Seen as Playing Role in Mental Health Disorders (by Noel Brinkerhoff, AllGov)