Insecticide Chemicals Found in Two-Thirds of Americans and Homes Tested
Thursday, February 27, 2014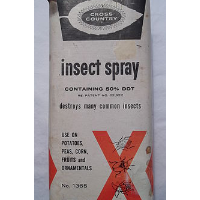 Insecticides used in household bug sprays have been found in two-thirds of individuals and homes tested by academic researchers.
Pyrethroids, the main ingredient for household pest control products, appeared in the urine of more than 100 family members who participated in the University of California, Davis study, out of a total of 173 people.
Furthermore, 99% of floor samples taken from test homes and 65% of the study participants, all in Northern California, had traces of chlorpyrifos, a chemical banned for household use in 2001 because of the risks it poses to children's brain development.
Chlorpyrifos are still allowed for use on crops.
When it came to pyrethroids, 50 of 83 children and 58 of the 90 adults tested positive for the chemical.
Pyrethroids, a manmade version of compounds found in chrysanthemum flowers, are used in more than 3,500 commercial products, including many kinds of insect repellants, aerosol bombs, pet shampoos, and lice treatments.
High doses of the chemical can cause neurological effects, including dizziness and nausea. The consequences of low-dose exposures are mainly unknown. But in farmworkers, contact with pyrethroids also has been linked to nausea, as well as respiratory ailments and heart palpitations.
-Noel Brinkerhoff
To Learn More:
Pyrethroid Insecticides Increasing in People, Homes (Environmental Health News)
Pesticides are Everywhere, and More Dangerous than You Realize (by Shruti Ravindran, The Verge)
Insecticides Linger in Homes, Study Finds (by Edward Ortiz, Sacramento Bee)
Urinary Pyrethroid and Chlorpyrifos Metabolite Concentrations in Northern California Families and Their Relationship to Indoor Residential Insecticide Levels, Part of the Study of Use of Products and Exposure Related Behavior (by Kelly J. Trunnelle , Deborah H. Bennett, Nicolle S. Tulve, Matthew Scott Clifton, Mark D. Davis , Antonia M. Calafat , Rebecca Moran, Daniel J. Tancredi, and Irva Hertz-Picciotto; Environmental Science & Technology) (abstract)
Walmart Fined for Misdemeanor Dumping of Hazardous Waste All over the State (by Ken Broder, AllGov California)
Mass Honeybee Deaths Linked to Insecticide (by David Wallechinsky and Noel Brinkerhoff, AllGov)