Judge Orders Homeland Security to Release Details for Shutting Down Wireless Networks
Wednesday, November 20, 2013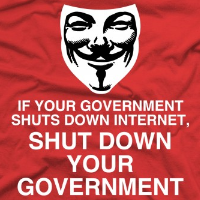 (graphic: Stabilitees)
The federal government must release documents explaining how, when and why it might decide to shut down the nation's wireless networks because of a "national crisis," U.S. District Judge James Boasberg ruled last week. His ruling came in a Freedom of Information Act (FOIA) lawsuit filed by the Electronic Privacy Information Center (EPIC) against the Department of Homeland Security (DHS) in February 2013.
EPIC filed its FOIA request with DHS in July 2012, asking for the full text of Standard Operating Procedure 303, a document approved in March 2006 by the National Communications System (now the Office of Emergency Communications) that codifies "a shutdown and restoration process for use by commercial and private wireless networks during national crises", but was never released to the public. EPIC also requested the text of the pre-determined "series of questions" that determines if a shutdown is necessary and other supporting documents.
Dissatisfied with DHS's claim in August 2012 that the agency was "unable to locate or identify any responsive records," EPIC filed its suit in February, only to learn that an administrative law judge had ruled that DHS had not made an adequate search and ordered them to do so. That search turned up the text of SOP 303, which DHS released in heavily redacted form. DHS claimed the redactions were made under FOIA Exemptions 7(E) and 7(F), which permit withholding of law-enforcement information if it would "disclose techniques and procedures for law enforcement investigations or prosecutions" or "could reasonably be expected to endanger the life or physical safety of any individual."
EPIC challenged the applicability of those exemptions and won. Judge Boasberg ruled that Exemption 7(E) did not apply because SOP 303 is not an investigatory or prosecution technique, and that 7(F) was not appropriate because DHS could not identify which individuals' life or safety was supposedly being endangered.
Boasberg added that the Government's only recourse—aside from an appeal to the D.C. Circuit—is to get Congress to change the FOIA. The judge ordered DHS to release SOP 303 within 30 days.
-Matt Bewig
To Learn More:
Feds Grilled on Network Shutdown Procedures (by Ryan Abbott, Courthouse News Service)
Electronic Privacy Information Center v. Department of Homeland Security (Opinion pdf)
Electronic Privacy Information Center v. Department of Homeland Security (Order pdf)
EPIC v. DHS - SOP 303 (by EPIC)
SOP 303 (as redacted – pdf)
New Law Lets Government Shut Down Cell Service, but Only in an "Emergency" (by Ken Broder, AllGov California)