Commissioner of the Internal Revenue Service: Who Is John Koskinen?
Monday, September 02, 2013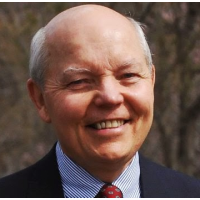 President Barack Obama has turned to a veteran executive to take over the Internal Revenue Service, which was rocked earlier this year by allegations—later shown to be false—that it had targeted politically conservative non-profit groups for extra scrutiny, and steer the agency to calmer waters. John A. Koskinen embarked on his second public service career in 1994, having spent two decades in the private sector. If confirmed by the Senate his term would last until November 2017, and he would replace Acting Commissioner Danny Werfel, who took the job in May after acting commissioner Steven T. Miller was forced to resign soon after the allegations surfaced.
Born July 30, 1939, Koskinen graduated Ashland High School in Ashland, Kentucky in 1957, going on to earn a B.A. in Physics at Duke University in 1961 and a law degree at Yale Law School in 1964. He also did post-graduate work in International Law at Cambridge University from 1964 to 1965. Koskinen clerked in 1965 and 1966 for Judge David Bazelon, who was one of the leading jurists of the day and served as chief judge of the U.S. Court of Appeals for the District of Columbia Circuit from 1962 to 1978.
After a short stint in 1966 and 1967 practicing law at the firm of Gibson, Dunn and Crutcher, Koskinen served in 1967 and 1968 as assistant to the deputy executive director of the Kerner Commission, which produced a landmark report on racism and the urban riots of 1967. He then served as a legislative assistant to Mayor John Lindsey of New York City (D), who had been vice chairman of the Kerner Commission, from 1968 to 1969. Koskinen got a taste of Capitol Hill from 1969 to 1973, serving as administrative assistant to Senator Abraham Ribicoff (D-Connecticut).
Leaving government service in 1973, Koskinen worked 21 years for the Palmieri Company, which specialized in "turnaround management" of foundering companies. Joining as vice president, he was named CEO and president in 1979. During this period, he also found time to serve as vice chairman of the American Professional Soccer League from 1987 to 1991.
Returning to public service after the 1992 elections, Koskinen served as deputy director for Management at the Office of Management and Budget from 1994 to 1997, and as assistant to President Bill Clinton and chair of the President's Council on Year 2000 Conversion from 1998 to 2000.
From 2000 to 2003, Koskinen served as deputy mayor and city administrator of Washington, D.C., and from 2004 to 2008, he was president of the United States Soccer Foundation, which is the major charitable arm for soccer in the U.S.
In the wake of the collapse of the mortgage bubble and resulting crisis, Koskinen served as non-executive chairman of Freddie Mac from 2008 to 2011, including a stint as acting CEO in 2009.
Koskinen serves on the boards of AES Corp. and American Capital, Ltd.
A lifelong Democrat, Koskinen has donated more than $80,000 to Democratic candidates and organizations since 1990, including $7,300 to Barack Obama's presidential campaigns, $18,000 to the Democratic National Committee, and numerous smaller donations to various candidates.
John Koskinen is married to Patricia Salz and has a daughter Cheryl and a son Jeffery.
-Matt Bewig
To Learn More:
Biography (Wikipedia)
Obama Chooses John Koskinen as Next U.S. IRS Commissioner (by Richard Rubin, Bloomberg)
John Koskinen Tapped for Worst Job in D.C. (by Lauren French, Politico)