Secretary of the U.S. Air Force: Who Is Deborah Lee James?
Sunday, September 01, 2013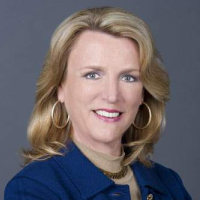 President Barack Obama has nominated a security industry executive to be secretary of the Air Force. Deborah Lee James is president of the Technical and Engineering Sector at Science Applications International Corporation (SAIC), a major contractor with the federal government headquartered in McLean, Virginia. If confirmed by the Senate, James would succeed Michael Donley, who retired in June, and would become the second woman to hold the post. Although James has no actual military experience, she has spent many years living off defense contracts, and the administration is believed to hope that nominating a woman will help quiet some of the criticism over the Air Force's dismal record at dealing with the epidemic of sexual assault within its ranks.
Born circa 1957, James earned a B.A. in Comparative Area Studies at Duke University in 1979 and an M.A. in International Affairs at Columbia University in 1981.
She began her career in national security as a professional staff member on the House Armed Services Committee from 1983 to 1993, specializing in military personnel and North Atlantic Treaty Organization (NATO) issues. She then moved over the to the executive branch, serving from May 1993 to April 1998 as assistant secretary of defense for Reserve Affairs at the Department of Defense, responsible for all matters pertaining to the National Guard and Reserve Forces.
Heading to the private sector, James was vice president for International Operations and Marketing at United Technologies Corporation from April 1998 to May 2000.
From May 2000 to December 2001, James was the executive vice president and chief operating officer at Business Executives for National Security (BENS), a conservative organization representing more than 350 corporations that lobbies for more spending on homeland and national security programs—which its members then profit from by obtaining government contracts. In fact, according to security industry expert Tim Shorrock, BENS "has been a driving force in the privatization of U.S. defense capabilities, including the outsourcing of the precious intelligence assets."
From January 2002 to 2013, James held four jobs at SAIC, starting with a mere one month as senior vice president and director for Homeland Security. After a two-year gap, James was senior vice president of the C4IT Business Unit from January 2004 to August 2010, executive vice president of Communications and Government Affairs from August 2010 to January 2013, and president of the Technical and Engineering Sector from January to July 2013.
James is active in several professional and charitable organizations, including the Tragedy Assistance Program for Survivors, Defense Department Advisory Committee on Women in the Services, and chairperson for the PenFed Foundation National Advisory Board.
-Matt Bewig
To Learn More:
Obama to Nominate Deborah Lee James as Air Force Secretary (by Jeff Mason and Andrea Shalal-Esa, Reuters)
Obama Nominates Deborah Lee James As Air Force Secretary (by Josh Lederman, Huffington Post)