20 Teachers and Staff Will Carry Guns When Doors Open to Kids at Arkansas School This Fall
Thursday, August 01, 2013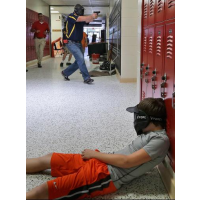 Clarksville High School training session (photo: Danny Johnston, AP)
Even in pro-gun Arkansas, no school has ever armed teachers to defend against possible shooting attacks.
But when school opens this fall, Clarksville High School will become the first to have instructors and staff carry concealed weapons. The plan involves more than 20 teachers, administrators and other school employees.
Following the tragedy in Newtown, Connecticut, last year, gun proponents such as the National Rifle Association advocated for arming schoolhouses. Officials in Arkansas embraced the idea, using a little-known state law that allows licensed, armed security guards on campus.
Clarksville decided that instead of hiring security, it would have teachers and other school workers undergo 53 hours of training to qualify them as armed guards.
"The plan we've been given in the past is 'Well, lock your doors, turn off your lights and hope for the best,'" Superintendent David Hopkins told the Associated Press (AP). But as school shootings continued, he explained, the district decided, "That's not a plan."
The closest any plan that a school in Arkansas has come to Clarksville's is the one in Garland County's Lake Hamilton School District, which for years has kept a number of guns locked up in the event an emergency, accessible only by a few administrators, but not by teachers.
Clarksville decided to train several dozen of its teachers and staff to qualify as armed security rather than "tying our money up in [hiring] a guard 24/7," according to Hopkins. The cost to the school district for Clarksville's program is $50,000 for training and ammunition, and $1,100 per participant for the purchase of a handgun and holster.
The training sessions involve role-playing scenarios, performed on the campus, in which members of the school staff respond to an armed student or intruder threatening students with a weapon. The trainee, such as a teacher, learns how to pursue and shoot down the gunman with an "airsoft" pellet gun—a stand-in for the lethal 9mm pistol that would be used in a real crisis situation.
State officials are allowing the experiment to proceed in Clarksville, a community of 9,200 located about 100 miles northwest of Little Rock.
But some in the education community object to the plan, including Arkansas Education Commissioner Tom Kimbrell and Donna Morey, former president of the Arkansas Education Association. Morey called the idea of arming teachers "awful," viewing the risk of an accidental shooting greater than the benefit of having an armed staff of educators in place to defend against a potential threat.
"We just think educators should be in the business of educating students, not carrying a weapon," Morey told the AP.
Some parents at Clarksville agree. Sherry Wommack, the mother of an 8th-grader, is removing her son from the school before the new fall session begins. "I think police officers are trained to make those decisions, not teachers," Wommack told the AP.
The closest Clarksville has actually come to confronting a serious incidence of school violence was in 2008 when two students, ages 13 and 16, were arrested for making bomb threats at Clarksville Junior High School. The high school was also evacuated.
-Danny Biederman, Noel Brinkerhoff
To Learn More:
Guns in School: Ark. District Arming More than 20 Teachers, Staff (by Andrew DeMillio, Associated Press)
Teachers in Arkansas to Carry Concealed Handguns at School (by Sarah Lazare, Common Dreams)
Insurance Company Refuses to Insure Schools with Armed Employees (by Matt Bewig, AllGov)
Fontana School Police Buy Assault Weapons, but Don't Tell District Board (by Ken Broder, AllGov California)