Scientists Denying Human-Caused Climate Change Fade from Existence…Except in the Media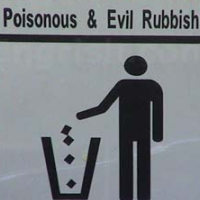 (photo" Iain Inglis, Engrish.com)
The American news media are doing a terrible job of explaining the issue of human-caused global warming, according to a newly released study of the scientific consensus regarding the issue. By focusing on politicians and others who deny global warming, the media obscures the fact that climate scientists believe overwhelmingly that warming is real and caused by human industrial activity over the past three centuries.
Building on earlier surveys of climate scientists and reviews of their academic papers, the study authors examined 11,944 abstracts published in peer reviewed science journals from 1991 to 2011 that included the words "Global Climate Change" or "Global Warming." Categorizing each abstract according to its apparent position on global warming, they found that 66.4% expressed no position, 32.4% expressed acceptance, 0.7% rejection, and 0.3% uncertainty as to the cause of warming. Counting only those papers that expressed an opinion, the study found that 97.1% "endorsed the consensus position that humans are causing global warming."
When the researchers asked study authors to rate their own papers, only 35.5% of the papers were found to express no opinion, but the rate of consensus remained virtually the same, with 97.2% of papers endorsing the consensus.
In contrast, public opinion polls indicate that about half of Americans incorrectly believe there is significant ongoing debate among scientists about the existence of human-caused global warming. That misperception in turn provides an excuse for people to deny warming altogether and oppose policies intended to save the biosphere.
They are getting their bad science from a media system locked into a "horse race" mentality about politics and committed to a form of "neutrality" that means never factually evaluating policy claims. In the United States, the Union of Concerned Scientists analyzed months of climate change coverage at two conservative media outlets: the Wall Street Journal and Fox News. They found that 37 out of 40 (92.5%) segments about climate change science on Fox were "misleading," while only 9 out of 48 (18.75%) Wall Street Journal articles accurately reflected the state of the science.
-Matt Bewig
To Learn More:
Quantifying the Consensus on Anthropogenic Global Warming in the Scientific Literature (by John Cook, Dana Nuccitelli et al., Environmental Research Letters)
Zombie Climate Sceptic Theories Survive only in Newspapers and on TV (by Graham Readfearn, The Guardian)
Climate Research Nearly Unanimous on Human Causes, Survey Finds (by Suzanne Goldenberg, The Guardian)
Climate Change Deniers Grasping at Clouds (by Noel Brinkerhoff, AllGov)