How the Obama Administration Charged 3 Pacifists with Violent Acts of Sabotage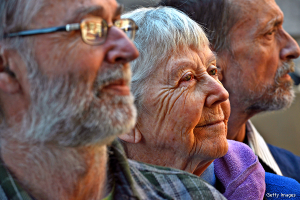 Gregory Boertje-Obed, Sister Megan Rice, and Michael Walli (photo: Getty Images)
Three peace activists, including an elderly Roman Catholic nun, who trespassed onto a leading nuclear weapons facility now face decades behind bars after the Obama administration leveled one charge after another at them in the wake of the embarrassing episode.
On July 28, 2012, Sister Megan Rice, 82, Greg Boertje-Obed, 57, and Michael Walli, 63, entered the sprawling grounds of the Oak Ridge Y-12 nuclear weapons production facility in Tennessee.
The three activists managed to cut through not one, not two, not three, but four fences and reach the uranium enrichment facility on foot before one of the plant's security guards, Kirk Garland, finally detected the unlawful entry and arrested them. Garland was subsequently fired. The government pays $1.2 billion for security at Oak Ridge every year.
Rice, Boertje-Obed and Walli were not armed. They carried Bibles, peace banners, flowers and spray paint, which was used to put up peace messages.
A couple days after their apprehension, the three were arraigned in court and charged with federal trespassing, which is a misdemeanor that carries a penalty of up to one year in jail.
Their feat raised serious questions about the U.S. Department of Energy's ability to protect such an important facility. The agency's inspector general (IG) subsequently investigated security operations at Y-12 and found "multiple system failures on several levels."
The IG also said the breach by the three activists should serve as a "wake-up" call for the Energy Department to do something about improving the security at the uranium facility.
In the months after the incident, the Obama administration did do something—deciding they elevated the charges against Rice and the others.
More charges were filed, and still more after that. The defendants went from facing upwards of a year in prison to six years, then 16 years, and finally 35 years. Eventually the Justice Department charged them with "aiding and abetting each other, with intent to injure, interfere with, and obstruct the national defense of the United States" and that they "did willfully injure, destroy and contaminate, and attempt to injure, destroy and contaminate national-defense premises, specifically, buildings and grounds of the Y-12 National Security Complex."
"In a mere five months, government charges transformed them from misdemeanor trespassers to multiple felony saboteurs," Fran Quigley wrote for Common Dreams.
In May, the activists were tried and convicted on two counts: of sabotaging the plant and damaging federal property. Their sentencing hearing is scheduled for September.
-Noel Brinkerhoff
To Learn More:
How the US Turned Three Pacifists into Violent Terrorists (by Fran Quigley, Common Dreams)
Nun, Protestors Guilty in Nuclear Plant Break-In (by Eric Schetzig, Associated Press)
Y-12 Violators Walli, Rice and Boertje-Obed Charged with Additional Count of Injuring National-Defense Premises (U.S. Department of Justice)
The 82-Year-Old Nun Who Breached U.S. High-Security Nuclear Complex (by Matt Bewig, AllGov)