EPA Pushed Oil Companies to Pay for Non-Existent Biofuel Additive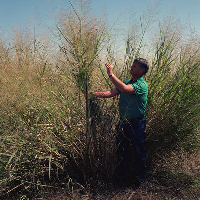 Switchgrass (photo: National Renewable Energy Laboratory )
A recent legal victory by Big Oil over the Environmental Protection Agency (EPA) may prove short-lived, although it establishes an important limit on the government's power to use "technology forcing" laws and regulations to shape the economy. Such laws use a mix of financial incentives and penalties to encourage or discourage the use of particular goods or services as a way to spur technological innovation to solve social problems.
In the case of cellulosic biofuel, the government fined oil refiners that didn't meet usage quotas, but it went too far because the product simply wasn't available.
In the Energy Independence and Security Act of 2007 (EISA), Congress established the Renewable Fuel Standard (RFS), a set of mandatory annual goals for the use of fuels like ethanol, biodiesel, and cellulosic biomass by oil refiners and others. The legislation has had its intended effect, as the production of ethanol more than doubled and that of biodiesel increased by two-and-a-half times between 2007 and 2011, sufficient to meet the RFS goals.
But cellulosic biomass, which is ethanol made from switchgrass, wood chips, and other fibrous, non-edible plants, has lagged far behind the goals set by Congress, largely because the cost of production has turned out to be much higher than projected in 2007. In fact, in 2012 the U.S. biofuel industry produced only 20,069 gallons of cellulosic ethanol, compared to the 500 million gallon goal set by EISA.
In response, EPA has used its authority to significantly reduce this goal over the years—from 100 million gallons in 2010 to 6.5 million, 250 million in 2011 to 6.0 million, and 500 million in 2012 to 8.65 million—while still trying to maintain their "technology forcing" aspects and collecting about $25 million from the refiners for their failure to meet even the revised goals. Last month, however, a federal appeals court in Washington, DC, struck down the 2012 goal for being too out of touch with reality, and EPA voided the goal and will send refunds to those who already paid associated fines.
Although no commercial-scale cellulosic ethanol plants exist as of early 2013, the U.S. Energy Information Administration, an agency in the Department of Energy, recently forecast that production "could grow to more than 5 million gallons in 2013, as operations ramp up at several plants. Additionally, several more plants with proposed aggregate nameplate capacity of around 250 million gallons could begin production by 2015."
EPA really needs for EIA's prediction to be pessimistic, for on February 7, EPA proposed a cellulosic ethanol goal for 2013 of 14 million gallons, well under EISA's goal of 1 billion gallons, but nearly three times EIA's estimate. The goal is part of a proposed rulemaking subject to public comment, so it may be reduced during the rulemaking process.
-Matt Bewig
To Learn More:
EPA Cuts 2012 Cellulosic Blending Target to Zero (by Marlo Lewis, Cooler Heads)
The EPA's Nonexistent-Product Mandate (by David Gibberman, Daily Caller)
Cellulosic Biofuels Begin to Flow but in Lower Volumes than Foreseen by Statutory Targets (U.S. Energy Information Administration)