Abused Circus Elephants May Be Banned from Los Angeles for First Time Since 1919
Saturday, December 29, 2012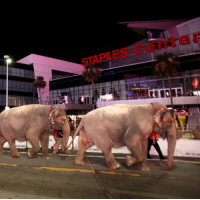 Circus elephants in Los Angeles (photo: Stefano Paltera,, AP)
The show must not go on if it means cruelty for the animals involved, say Los Angeles politicians considering a ban on circus elephant shows.
Next year the LA City Council will vote on a plan to prohibit circuses from using elephants in shows. Pushed by animal rights advocates, the ban would mostly affect The Ringling Brothers and Barnum & Bailey Circus, which has been bringing Asian elephants to the city since 1919.
Long billed as "The Greatest Show on Earth," Ringling Brothers has been accused of mistreating its elephants by hitting them with bull hooks as part of their training. Animal welfare groups contend that making the large animals constantly move around the country also is unfair to them.
Ringling Brothers says its trainers treat all animals humanely. It also cites inspections by the U.S. Department of Agriculture as proof that the elephants and other species receive topnotch care.
If the ban is approved, Ringling Brothers would be barred from the nation's second-largest city unless its owners agree to drop the elephant show.
"The treatment of elephants in traveling circuses is one of the crueler practices, and it's time for us to stand up for them," Paul Koretz, the City Council member who sponsored the ban, told The New York Times. Koretz added that LA's ban could prompt other cities to impose their own.
Currently, six Southern California cities have bans on circus elephants, more than in any other state. In addition, the Santa Ana Zoo and the Orange County Fair have stopped offering elephant rides.
-Noel Brinkerhoff
To Learn More:
Los Angeles Weighs Law Banning Elephant Shows (by Ian Lovett, New York Times)
Why Does the FBI Treat Videotaping Corporate Animal Abuse as Terrorism? (by Noel Brinkerhoff, AllGov)
Undercover Video Exposes Illegal Abuse of Animals Used in School Lunch Program…Where were USDA Inspectors? (by Ken Broder, AllGov)
An Elephant Never Forgets, and Now He Can Talk About It (by Noel Brinkerhoff, AllGov)