Judge Rules North Carolina License Plates Unconstitutional
Wednesday, December 12, 2012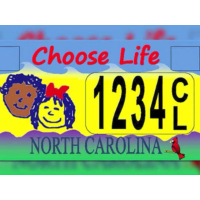 North Carolina's law allowing anti-abortion license plates, but not pro-choice ones, has been struck down by a federal judge.
The Republican-led legislature in 2011 approved "Choose Life" specialty plates for automobiles, but not plates with a pro-choice message.
The American Civil Liberties Union sued to have the legislation thrown out, which U.S. District Court Judge James Fox agreed to do last week.
"This court concludes...that the state's offering of a Choose Life license plate in the absence of a pro-choice plate constitutes viewpoint discrimination in violation of the First Amendment," Fox said in his ruling.
In 2004 the U.S. Supreme Court declined to hear a case in which South Carolina was forced to pay the legal fees incurred by Planned Parenthood because the state approved "Choose Life" plates, but refused to issue plates that supported the right to abortion. State legislators did an end run around the restriction by allowing nonprofit groups to gather prepaid orders for specialty plates, and "Choose Life" plates were printed in 2008.
Pro-life advocates reacted negatively towards the North Carolina ruling. Scott Gaylor, an Elon University law professor who served as a consultant for defendants of the "Choose Life" plate, told the Raleigh News & Observer that Fox's ruling "has implications for other things as well," adding it could mean the state now will have to offer a "Kill The Sea Turtles" license plate to counter the "Save The Sea Turtles" one.
-Noel Brinkerhoff, David Wallechinsky
To Learn More:
Federal Judge: State Can't Offer Only 'Choose Life' License Plates (by Anne Blythe, Raleigh News & Observer)
Judge Rules against N.C. Anti-Abortion License Plate (by Martha Waggoner, Raleigh News & Observer)
U.S. District Court Ruling in N.C. Choose Life Case (pdf)
Federal Court Approves Doctors Telling Patients that Abortion Can Lead to Suicide (by Noel Brinkerhoff, AllGov)
iPhone Siri Won't Locate Abortion Clinics (by Noel Brinkerhoff, AllGov)