Rail Crash Victims Suffer from Pro-Business Liability Cap
Thursday, September 13, 2012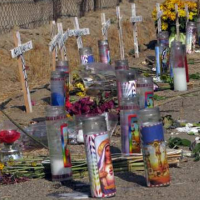 Chatsworth rail disaster memorial
Four years after one of the worst train accidents in U.S. history, survivors are struggling to pay medical bills and other expenses despite receiving a multi-million dollar settlement.
Following the September 12, 2008, collision between a Metrolink passenger train and a freight locomotive outside Los Angeles, a judge awarded $200 million to 126 survivors of the crash that killed 25. The families of those killed received from $4.2 million to $5 million for an adult and $1.2 million for each teenage child.
Los Angeles County Superior Court Judge Peter D. Lichtman said at the time that $200 million was the most he could award under the law, implying he would have ordered a higher amount were it not for the Amtrak Reform and Accountability Act of 1997, which capped train accident settlements at $200 million. The Act also did not allow for adjustments for inflation, which has risen 40% since 1997.
Even though plaintiffs received six- and seven-figure allotments, many of them are struggling to pay for current as well as future care stemming from permanent disabilities suffered in the accident.
For example, as Dan Weikel of The Los Angeles Times pointed out, Mike Wiederkehr received $225,000 for his physical injuries. But after attorney's fees, medical insurance reimbursements and other expenses, Wiederkehr has only about $30,000 left. He says he still needs $480,000 in future medical and rehabilitation care as well as money for lost earnings.
The railroad industry has thus far successfully beaten back Congressional attempts to raise the rail crash liability cap.
-Noel Brinkerhoff, David Wallechinsky
To Learn More:
Four Years Later, Survivors of Metrolink Crash Still Hurting (by Dan Weikel, Los Angeles Times)
As Rail Tragedies Fade From Memory, Resistance to Safety Rule Gains Steam (Fair Warning)
Railroad Industry Claims Mandated Safety Technology is Too Expensive (by Noel Brinkerhoff and David Wallechinsky, AllGov)