Undercover Video Exposes Illegal Abuse of Animals Used in School Lunch Program…Where were USDA Inspectors?
Thursday, August 23, 2012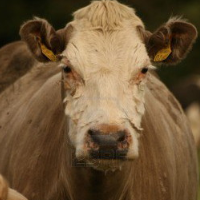 Seven months ago, the U.S. Supreme Court told California to butt out when it comes to regulating slaughterhouses. Justices unanimously ruled in National Meat Association v. Harris that a state law, which attempted to keep out of the food supply animals that couldn't walk, was pre-empted by federal law that wasn't as strict.
The state law, which required the immediate euthanasia of "downer" animals and barred their slaughter or sale, was inspired by 2008 undercover videos at the California dairy Hallmark-Westland, which showed sick and disabled cows being electroshocked, kicked and dragged to their death.
This week, the federal government had an opportunity to exercise that pre-emptive power when two more videos surfaced showing cattle being subjected to inhumane treatment at a Central California slaughterhouse. The U.S. Department of Agriculture (USDA) responded by shutting down the Hanford-based Central Valley Meat Company on Sunday.
Still, the question arises as to why USDA inspectors did not discover the abuse themselves and had to rely on video submitted by an infiltrator.
The new videos were sent to the government by Compassion over Killing, a nonprofit animal advocacy organization headquartered in Washington, D.C., with offices in Los Angeles. The USDA closed the plant by refusing to send them inspectors, and released a statement that cites its "egregious inhumane handling and treatment of livestock."
According to the nonprofit, the videos were shot in 2011 and 2012 by one its members who took a job in Hanford. The videos document downed cows being shot in the head multiple times and left wiggling on the killing floor. Some cows were suffocated. Others were repeatedly stunned with electric prods, stabbed, sprayed with hot water and lifted by their tails if they couldn't walk.
The federal law that the Supreme Court deemed adequate to the task of regulating slaughterhouses prohibits states from enforcing requirements concerning "premises, facilities and operations" that are "in addition to or different from" those in federal law.
The law was passed in 1906 after famed California muckraker, journalist and failed-gubernatorial candidate Upton Sinclair published The Jungle, a gut-wrenching story that exposed the horrific practices of the meatpacking industry.
Many critics wonder how much has really changed since then.
So far, there is no proof that meat from lame animals at the plant has entered the food supply. But In-N-Out Burger wasted no time in announcing that it won't be doing any more business with Central Valley Meat, one of its suppliers. Central Valley Meat is also the third top beef supplier to the nation's school lunch program.
–Ken Broder
To Learn More:
COK's Undercover Video Prompts USDA to Shut Down CA Slaughterhouse
and Suspend Federal Purchases from Facility (Compassion over Killing)
Central Valley Slaughterhouse Closed over Inhumane Treatment (by David Zahniser, Los Angeles Times)
In-N-Out Severs Ties with Calif. Slaughterhouse (by Tracie Cone, Associated Press)
USDA Eyes Whether Tainted Beef Entered Food Supply (by Tracie Cone, Associated Press)
USDA Shuts Down CA Beef Plant after Video Shows Inhumane Treatment (by Helena Bottemiller, Food Safety News)
U.S. Investigating Abuse Charge at California Meat Plant (by Stephanie Armour, Bloomberg BusinessWeek)
Rampant Animal Cruelty at California Slaughter Plant (Humane Society)
Supreme Court Rejects California Slaughterhouse Law (by Adam Liptak, New York Times)