Military Clashes with U.S. Spies over Outsourcing of Satellite Surveillance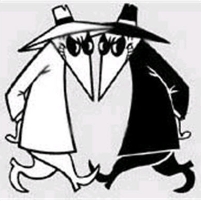 Partisanship between Republicans and Democrats isn't the only source of divide these days in Washington, DC. Members of the intelligence community and the military are also on opposite sides, in this case regarding the future of American spy satellites.
Since the U.S. first began using satellites to collect intelligence data, the government largely relied on its own technology. But in recent years, as private companies have developed sophisticated satellites of their own, Washington has had the option of relying on commercial sources for spy missions.
Going with this latter option also saved some money, as the commercial technology proved less costly than government-owned satellites.
But senior intelligence officials have urged the Obama administration to move away from relying on commercial satellite imagery. The justification for doing so is also related to money: to help reduce the federal budget deficit.
This decision has not set well with military commanders who need large amounts of satellite imagery, some of which does not need to be classified. Pentagon leaders insist the only way to gather the volume of necessary data is through using private company satellites.
Unspoken publically in the debate is another issue, whether it is really wise to depend on profit-making private companies to create and store images that in many cases are extremely important to national security.
It is worth noting that the highest-ranked advocate of reducing dependence on private companies, Director of National Intelligence
James Clapper
, once served on the board of directors of
GeoEye
, one of the two
private
contractors that provide satellite imagery to the U.S. government. (The other is DigitalGlobe.) During his 2001-2006 tenure as director of the
National Geospatial-Intelligence Agency (NGA)
, which was then known as the National Imagery and Mapping Agency, he privatized much of the NGA's imagery gathering. Five months after leaving the NGA, Clapper joined GeoEye, where he stayed for five more months…long enough to see GeoEye gain an extra $29.9 million in contracts from the NGA. Clapper has now come down on the opposite side of the issue.
DigitalGlobe currently operates three satellites capable of collecting imagery at resolutions of better than 1 meter, and GeoEye has two satellites in orbit that can photograph objects as small as half a meter in size.
While this debate between spymasters and military chiefs has continued, the
National Reconnaissance Office
(NRO), which manages the government's spy satellites, lost its top official.
Bruce Carlson
, the NRO director, announced his resignation on April 18.
Carlson, who also favored less spending on commercial satellite imagery, said his departure had nothing to do with the controversy.
-Noel Brinkerhoff, David Wallechinsky
To Learn More:
Pentagon Awards $7.3 Billion Contracts for Outsourced Spy Imagery (by David Wallechinsky and Noel Brinkerhoff, AllGov)