Railroad Industry Claims Mandated Safety Technology is Too Expensive
Tuesday, January 24, 2012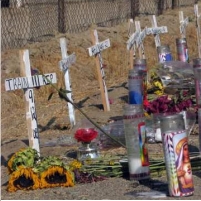 Chatsworth Rail Disaster Memorial
Twenty-one railroad accidents since 2001 could have been prevented with new safety technology that the industry is fighting against adopting. Using GPS, wireless communications and central control centers,
Positive Train Control (PTC)
automatically applies a train's brakes when facing a collision or derailment.
The new system was mandated by federal legislation four years ago, after a head-on collision in California in September 2008 killed 25 and injured 135. Safety advocates argue that PTC could have saved those killed near Chatsworth, as well as another 28 people who died in train accidents over the past eleven years.
Railroad companies want to delay implementation of PTC for at least three years, claiming it's too expensive. They have found a sympathetic ear among Republicans in Congress, and have already won a key concession from the Obama administration regarding the safety technology, reducing the amount of track subject to the system.
-Noel Brinkerhoff, David Wallechinsky
As Rail Tragedies Fade From Memory, Resistance to Safety Rule Gains Steam (by Justine Sharrock, Laurie Udesky, and Stuart Silverstein, Fair Warning)