Upset about the Richest 1%? The Top .000003% Own $25 Trillion
Thursday, November 17, 2011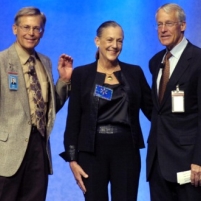 Siblings Jim, Alice and Rob Walton are worth $62.5 billion.
Here's a statistic for critics of wealth disparity: three millionths of 1% (0.000003%) of the world's population has a net worth of $25 trillion.
Wealth-X
, a self-described "global wealth intelligence and prospecting company," estimates that there are 185,795 ultra high net worth (UHNW) individuals (those being people with $30 million or more in assets) on the planet.
Wealth-X says there are 1,235 billionaires in the world with a combined net worth of $4.2 trillion. The richest 15,000 people have total wealth of $10 trillion.
The United States has 57,860 super rich—30% of the world total—with a combined net worth of $7.8 trillion. The remaining 312,564,426 Americans have a combined net worth of about $50 trillion. This means that in the U.S. the richest 1/54 of 1% of Americans controls 13.5% of the nation's wealth.
The United States' 455 billionaires have $1.8 trillion in total assets.
Europe has the second largest population of UHNW individuals, with 54,325 owning $6.8 trillion. Asia-Pacific (42,525) represents $6.2 trillion of the total.
-David Wallechinsky, Noel Brinkerhoff
Super Rich Go from Paying Taxes to Lending Money to Government: Robert Reich (by Noel Brinkerhoff, AllGov)