Alabama Nuclear Plant Wins Go-Ahead after 23-Year Delay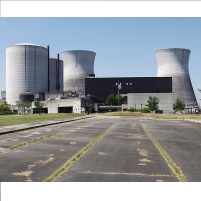 Bellefonte Nuclear Plant (photo: Institute for Southern Studies)
Thirty-seven years after construction first began, the Bellefonte Nuclear Plant in Jackson County in northeastern Alabama may yet become operational, if the
Tennessee Valley Authority (TVA)
spends billions of dollars more to finish the half-built facility.
The nine-member TVA board voted unanimously on Thursday to restart construction of Bellefonte, whose development started in 1974. Over the next 14 years, the plant still was not completed, and finally in 1988, officials gave up on completing the project.
But the need for jobs in the region prompted TVA to reconsider finishing the plant. The project will create 2,800 temporary jobs and 650 permanent ones once Bellefonte is operating.
Funding for the work will require an investment of $4 billion to $5 billion, which could be a challenge for the TVA which is saddled with about $24 billion in debt already and has a debt ceiling of $30 billion allowable under law.
The TVA plans to pay for Bellefonte's completion by first selling off the John Sevier gas plant located in Tennessee, and the Watts Bar Unit 2 nuclear reactor, the completion of which has now been delayed indefinitely because of safety concerns raised by the Fukushima nuclear disaster in Japan.
Bellefonte is expected to generate 1,260 megawatts of power, enough to supply 750,000 homes with electricity. Among the winners in the deal, are the French engineering firm Areva, which in October won a $248 million contract from the TVA for engineering and design work on Bellefonte, and Burns & McDonnell, which in March gained a contract to provide project control and information management services. TVA also chose Babcock and Wilcox of Canada to design and manufacture two 500-ton steam generators for Bellefonte.
Last month, anti-nuclear plant protesters showed up at a TVA board meeting dressed as zombies to call attention to the "corpse of a power plant." TVA officials responded by banning the wearing of costumes to TVA meetings.
-Noel Brinkerhoff, David Wallechinsky