Don't Walk! Orlando Most Dangerous City for Pedestrians (Boston Safest)
Wednesday, August 17, 2011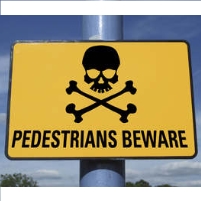 (photo: Hartford Advocate)
Stepping foot outside in Orlando, Florida—as well as many of the state's other large cities—can be a life-threatening experience. The risk has nothing to do with pollution or extreme weather, but everything to do with automobiles.
On an average day, 13 pedestrians are killed in the United States and another 188 are injured. Pedestrians account for almost 12% of all traffic deaths, yet state transportation departments have used barely 1.5% of available federal transportation funds to make dangerous roads safer for people who walk.
In fact, the four worst regions in the ranking all are in Florida. Following Orlando is Tampa-St. Petersburg-Clearwater, then Jacksonville and Miami-Fort Lauderdale-Pompano Beach.
Rounding out the 10 most dangerous are Riverside-San Bernardino-Ontario, California (#5), Las Vegas-Paradise, Nevada (#6), Memphis, Tennessee (#7), Phoenix-Mesa-Scottsdale, Arizona (#8), Houston-Sugar Land-Baytown, Texas (#9) and Dallas-Fort Worth-Arlington, Texas.
At the other end of the pedestrian-beware spectrum is the Boston-Cambridge-Quincy, Massachusetts area, considered the safest place for those venturing on foot.
-Noel Brinkerhoff