Ambassador to Côte d'Ivoire: Who is Phillip Carter III?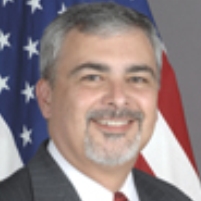 Phillip Carter III was sworn in as U.S. Ambassador to Côte d'Ivoire on August 23, 2010.
Carter graduated from St. Dunstan's Episcopal High School, in Christiansted on St. Croix, U.S. Virgin Islands, in 1976. He earned his B.A. in Economics and History from Drew University in New Jersey, and his M.A. in International and Development Economics from Yale University.
Carter served as the Deputy Principal Officer at the U.S. Consulate General in Winnipeg
, Canada, and as Vice Consul at the U.S. Embassy in Mexico from 1982 to 1986. The following year he joined the Office of Caribbean Affairs in the position of Desk Officer. His responsibilities included economic programs, such as the Caribbean Basin Initiative, and bilateral issues pertaining to
Haiti
, the
Dominican Republic
, and the Eastern Caribbean.
Carter left the Desk Office position in 1989 to become the Economic and Commercial Officer in Lilongwe, Malawi. He transferred from that job in 1992 to become the Economic and Commercial Counselor at the U.S. Embassy in Dhaka, Bangladesh, where he remained until 1994.
In 1997, Carter took over as Deputy Chief of Mission at the U.S. embassy in Libreville
,
Gabon
, and then served a stint at the embassy in Antananarivo, Madagascar. At the Department of State's
Bureau of African Affairs
, he was Deputy Director of the Office of East African Affairs and, through 2007, Country Director in the Office of West African Affairs.
From 2007 to 2008, Carter was U.S. Ambassador to
Guinea
. During the transition between the Bush and Obama Administrations, he was the Africa Bureau's Acting Assistant Secretary. From 2008 to 2010, he served as Principal Deputy Assistant Secretary, and then Senior Advisor, to the Africa Bureau.
He and his wife, Amanda Jane, have two sons.